You think you know what is your points of view? You might think, that you are a true optimist or typical realist. But the reality is different.
Below you will find a poster about points of view, which will guide you through the different mental situations.
Is sometimes hard to tell which situation is right which is not. There are many people with a different mentality and knowledge background, that looking at one thing you can create many different theories about its existence.
Articles you might like:
Funny points of view in one glass
One simple glass can show an interesting angle of our points of view. So who you are?
Discover your beliefs in a global world by looking at the simple glass of water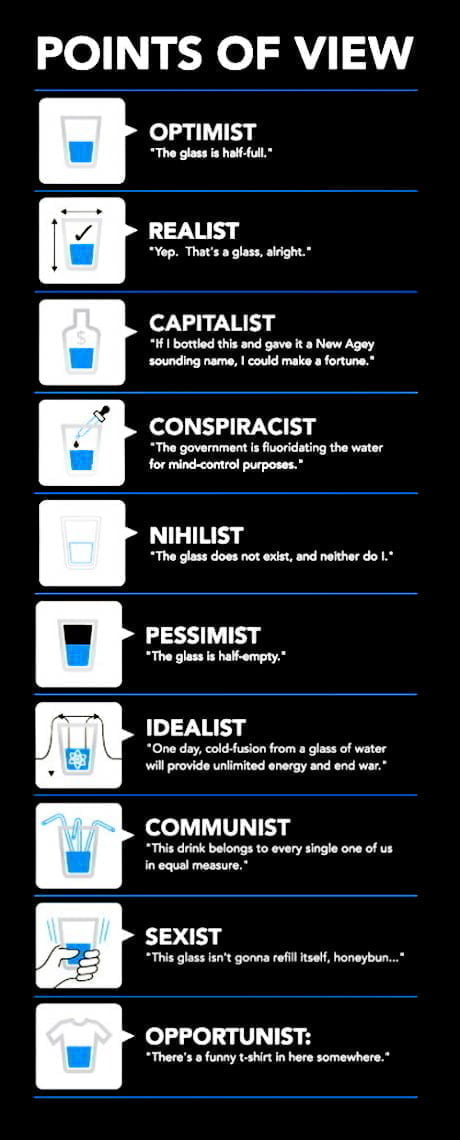 The Science of Points of View
But the point of view is so much more than a simple thought. Understanding the funny point of view means encouraging people to recognize that humans don't always agree on things.
Because we all of have different life experiences that have helped shape our opinions. Understanding point of view means helping people understand that you can't trust everything you read because authors have biases.
Conclusions about points of view
It is the age of googling for information, where anybody can find information on any topic. So it's more important to teach point of view in a way that encourages people to think about and justify their own point of view rather than just blindly trusting what the Internet has to stay.
 3 The most important things to consider — funny points of view are:
You need to Disagree in a Respectful Way
You need to Understand Both Sides of an Argument
You need to know that Authors are Not Always Right