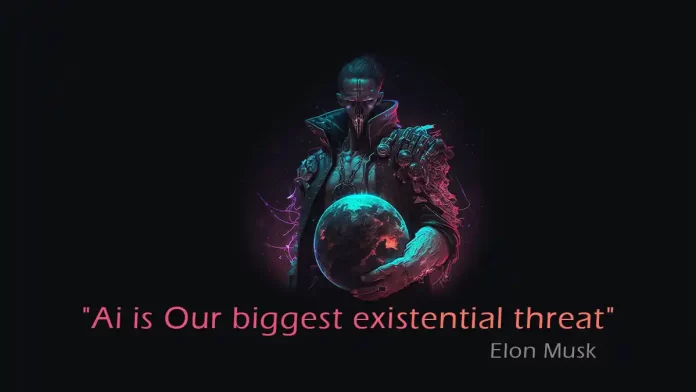 Artificial intelligence, or AI, has long been a topic of fascination and concern for many people worldwide, including some of the most innovative minds in the tech industry. One of the most vocal and recognizable names in this space is Elon Musk, the billionaire entrepreneur and founder of companies like Tesla and SpaceX. Musk has been a vocal critic of AI in the past and has made several notable statements and quotes about the technology over the years.
Musk has long been concerned about the potential dangers of AI and has spoken out about the need for caution and oversight in its development. In a 2014 interview with CNBC, Musk famously referred to AI as:
"Ai is Our biggest existential threat"
And he called for a regulatory body to oversee its development. He has also warned that uncontrolled AI could lead to catastrophic outcomes for humanity, such as the creation of autonomous weapons or the loss of jobs to automated machines.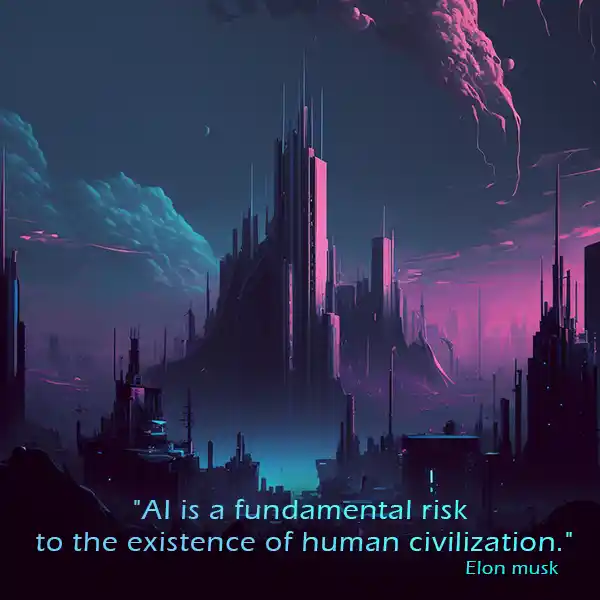 You might like: Release the Demon! Inspirational AI Quotes
AI Future According to Elon Musk
Despite these concerns, Musk has also recognized the enormous potential of AI to transform and improve many aspects of life. He has invested in several companies working on AI-related technologies, including OpenAI, a research organization dedicated to advancing AI safely and beneficially.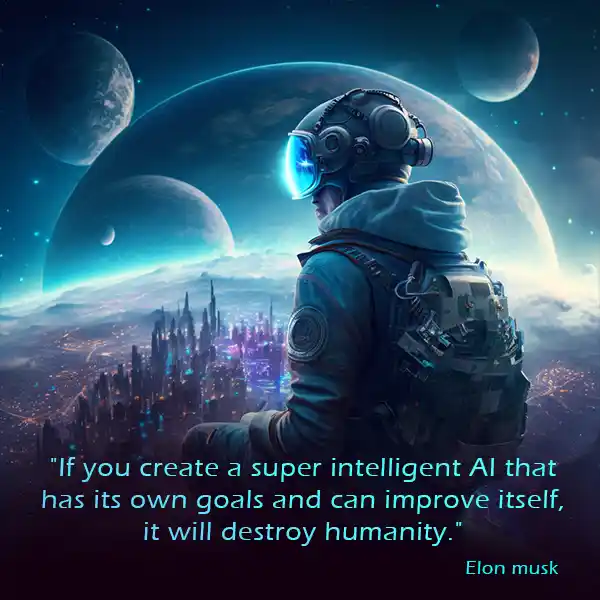 Musk has also spoken about the potential of AI to revolutionize transportation, healthcare, and other industries. It has even proposed the idea of neural lace, a brain-computer interface that could enhance human intelligence.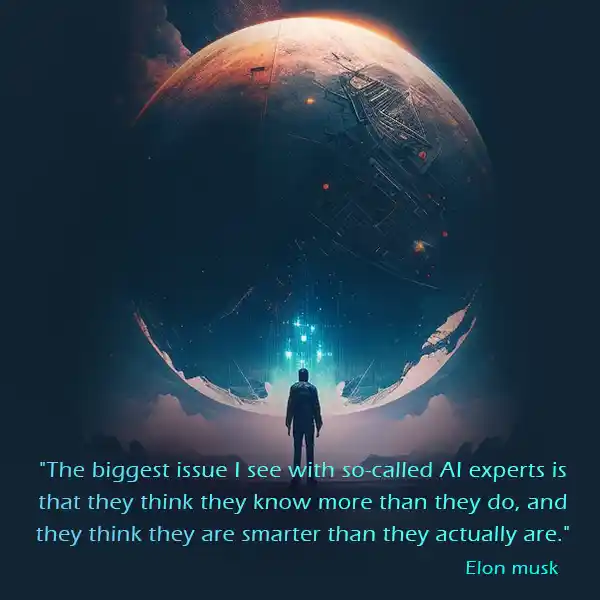 One of Musk's most memorable quotes about AI came in 2017 when he spoke at the National Governors Association Summer Meeting.
"AI is a rare case where I think we need to be proactive in regulation instead of reactive," he said. "Because I think by the time we are reactive in AI regulation, it's too late."
Musk's comments were widely reported in the media and helped to bring attention to the need for responsible AI development.
While there is still much debate and uncertainty about the future of AI, one thing is clear: technology has the potential to transform the world in profound and unpredictable ways.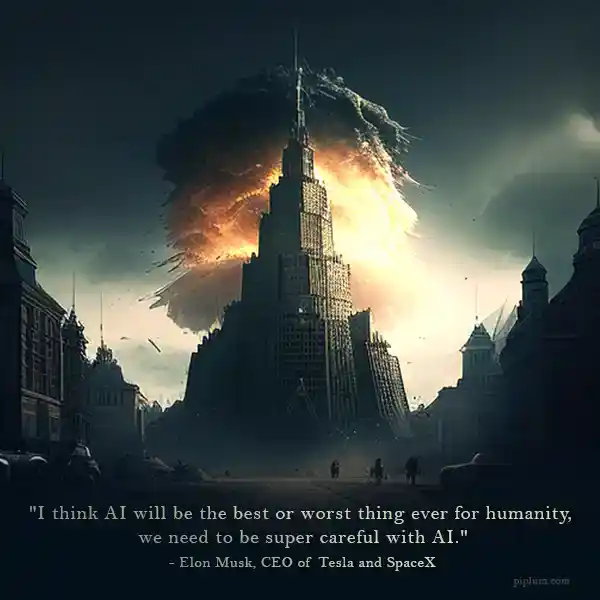 As Elon Musk has pointed out, it is up to us as a society to ensure this transformation is positive. By working together to develop AI responsibly and ethically, we can harness its power to create a brighter future for all of us.
Top 10 Quotes About Ai. Elon Musk.
Here are ten notable quotes from Elon Musk about AI:
"I think we should be very careful about artificial intelligence. If I had to guess at what our biggest existential threat is, it's probably that."

"Mark my words — AI is far more dangerous than nukes."

"AI is a fundamental risk to the existence of human civilization."

"If you create a super intelligent AI that has its own goals and can improve itself, it will destroy humanity."

"The biggest issue I see with so-called AI experts is that they think they know more than they do, and they think they are smarter than they actually are."

"We need to be super careful with AI. Potentially more dangerous than nukes."

"The pace of progress in artificial intelligence is incredibly fast. Unless you have direct exposure to groups like Deepmind, you have no idea how fast—it is growing at a pace close to exponential. The risk of something seriously dangerous happening is in the five-year timeframe. 10 years at most."

"The danger of AI is much greater than the danger of nuclear warheads by a lot."

"AI is a rare case where we need to be proactive in regulation instead of reactive. Because by the time we are reactive in AI regulation, it's too late."

"It is important to view the AI as a tool that can eliminate drudgery, but not as a competitive domain."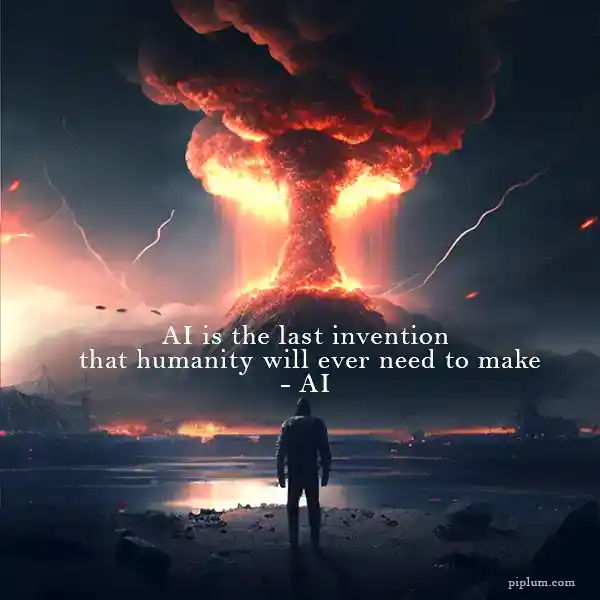 You might like: What Is Success? Destination or Journey? Inspirational Quotes.
The Potential Dangers of AI, according to Musk.
Elon Musk has expressed concerns about the potential dangers of artificial intelligence, particularly if it progresses to the point of superintelligence. He has warned that uncontrolled AI could pose a significant risk to humanity and that we need to ensure that AI is developed in a way that aligns with human values.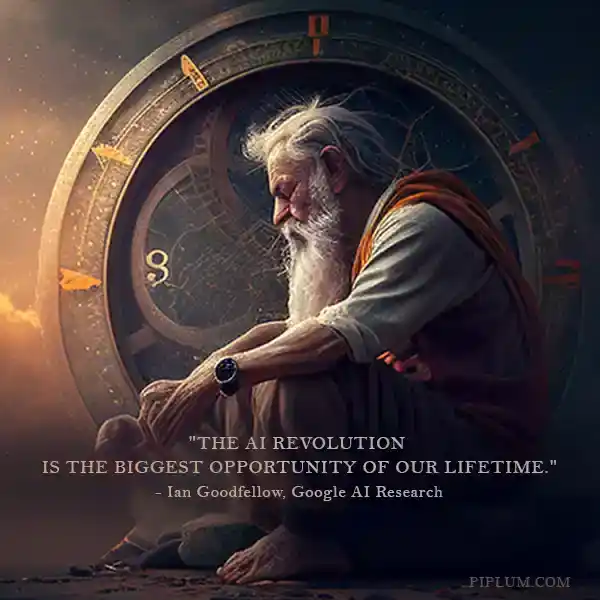 While Musk's concerns are shared by many researchers and experts in the field, there is also significant debate and differing opinions about the level of risk posed by AI. Some argue that the development of AI can bring tremendous benefits to society and that the risks can be managed through responsible development and regulation.
Ultimately, the potential dangers of AI depend on the specific applications and uses of the technology, as well as the measures taken to ensure that it is developed and used responsibly. As AI continues to develop, it will be important to carefully consider its potential risks and benefits and work to ensure that it is used to benefit humanity.
Top 5 AI quotes by Elon Musk:
"AI is an enormous opportunity, but we must tread cautiously and prioritize safety to ensure its benefits are realized."

AI is like fire. It can cook your food, or it can burn down your house." – Sam Altman, CEO of OpenAI

"While AI has tremendous potential to transform industries, we must not forget the impact it could have on society and must work to mitigate potential risks."
"The progress of AI is impressive, and it's important we take a proactive approach to its development to ensure its benefits are maximized and its risks are minimized."
"AI could be one of the most powerful tools we have to advance civilization, but it must be developed and deployed responsibly."
"The potential of AI is immense, and it's our responsibility as a society to ensure that we harness it for good and not let it pose a risk to humanity."