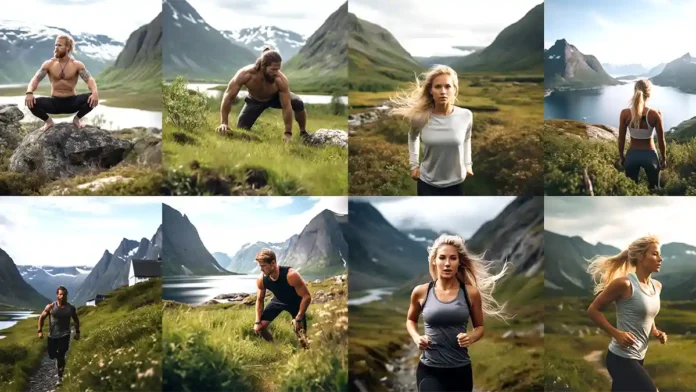 In recent years, Nordic exercises have gained significant popularity in the fitness world, offering a unique and effective approach to staying active and healthy. Inspired by the active lifestyles of the Nordic countries, these exercises combine cardiovascular activity, strength training, and outdoor engagement to create a holistic fitness experience. Let's dive into the world of Nordic exercises and discover how they can help you achieve your fitness goals while enjoying the beauty of nature.
What are Nordic Exercises?
Nordic exercises encompass a range of physical activities that draw inspiration from the natural landscapes and active lifestyles of countries like Sweden, Norway, Denmark, Finland, and Iceland. These exercises often incorporate the use of Nordic walking poles or involve bodyweight movements that simulate the movements of cross-country skiing. The combination of aerobic exercise and muscle engagement makes Nordic exercises a versatile and effective workout option for people of all fitness levels.
The Essence of Nordic Exercises
The essence of Nordic exercises lies in their ability to turn a simple walk into a full-body workout. By incorporating specially designed poles, this activity engages the upper body, core, and legs, creating a harmonious synergy of muscle movement. It's not just about moving forward; it's about activating muscles in a way that elevates the exercise from a mere stroll to an effective fitness routine.
You might like: The Nordic Diet. Insane Benefits or Typical Scam?
The Benefits of Nordic Exercises
1. Enhanced Cardiovascular Health
Nordic exercises elevate the heart rate and enhance blood circulation, providing a cardiovascular workout that can contribute to better heart health. The rhythmic arm and leg movements create a dynamic exercise that boosts endurance and strengthens the heart muscles.
2. Full-Body Engagement
Unlike traditional walking, Nordic exercises involve the use of poles that engage the upper body, including the arms, shoulders, and core. This full-body engagement results in improved muscle tone and enhanced calorie burning.
3. Low Impact, High Results
Nordic exercises are low-impact, making them suitable for individuals of various fitness levels. The poles reduce stress on the joints, making it an excellent option for those recovering from injuries or dealing with joint issues.
4. Improved Posture and Balance
The use of poles encourages an upright posture, leading to better spinal alignment and reduced strain on the lower back. Additionally, the engagement of core muscles enhances overall balance and stability.
5. Mental Well-being
Engaging in Nordic exercises in natural surroundings offers a dual benefit of physical activity and exposure to nature. This combination has been linked to reduced stress, improved mood, and enhanced mental clarity.
6. Connection with Nature
Nordic exercises are often practiced outdoors, allowing enthusiasts to connect with nature and enjoy the scenic beauty of their surroundings. This connection adds an element of mindfulness to the workout.
Walking Barefoot. The Most Beneficial Massage You Can Get For Free
Mastering Nordic Exercise Techniques
Mastering Nordic exercise techniques is key to reaping the full benefits of this invigorating workout. Here's how to get started:
1. Proper Pole Length
Ensure that the poles you use are the correct length. When you hold the poles, your elbows should be at a 90-degree angle.
2. Correct Grip
Hold the poles with a relaxed grip. The hand strap should be adjusted to allow your hand to easily release the pole during the swing phase.
3. Walking Technique
Maintain a natural walking rhythm while swinging the poles with each step. The poles should angle slightly behind you as you stride forward.
4. Upper Body Engagement
Focus on using your core and upper body to drive the poles forward and backward. This engagement should feel like a natural, flowing motion.
5. Breath and Posture
Breathe rhythmically as you walk and maintain an upright posture. Engage your core muscles to support your spine.
Frequently Asked Questions (FAQs)
Q: Can Nordic exercises help with weight loss?
Absolutely! Nordic exercises provide a full-body workout that burns calories and promotes weight loss when combined with a balanced diet.
Q: Is Nordic walking suitable for seniors?
Yes, Nordic walking is a low-impact exercise that is gentle on the joints, making it an excellent choice for seniors looking to stay active.
Q: Do I need any special equipment for Nordic exercises?
Yes, you'll need Nordic walking poles that are designed to enhance your workout. They are easily available in sports equipment stores.
Q: Can Nordic exercises be practiced year-round?
Indeed, Nordic exercises can be enjoyed throughout the year. The techniques can be adapted to different seasons, allowing you to stay active regardless of the weather.
Q: How does Nordic walking compare to regular walking in terms of calorie burn?
Nordic walking can increase calorie burn by up to 20% compared to regular walking due to the engagement of the upper body muscles.
Q: Is Nordic walking a suitable exercise for rehabilitation after an injury?
Yes, Nordic walking's low-impact nature makes it an excellent choice for rehabilitation, aiding in the recovery process.
Conclusion
Incorporating Nordic exercises into your fitness routine can bring about a refreshing change, both physically and mentally. The combination of cardiovascular benefits, full-body engagement, and connection with nature make Nordic exercises a holistic approach to well-being. Whether you're looking to lose weight, improve heart health, or simply enjoy outdoor activity, Nordic exercises offer a versatile and enjoyable solution.
Remember, a simple walk can turn into a transformative journey toward a healthier and more balanced life. So, why not grab those Nordic walking poles and embark on this invigorating adventure today?
Embrace the Nordic Fitness Lifestyle
Nordic exercises offer a refreshing alternative to traditional workouts by combining physical activity with the beauty of nature. Whether you're looking to improve your cardiovascular health, enhance your strength, or simply enjoy the outdoors, Nordic exercises provide a versatile and enjoyable way to stay fit. So grab your walking poles, head out to the nearest trail, and embrace the invigorating Nordic fitness lifestyle.
Ready to embark on a fitness journey that harmonizes body and nature? Explore the world of Nordic exercises and experience the transformative power of Scandinavian-inspired fitness.