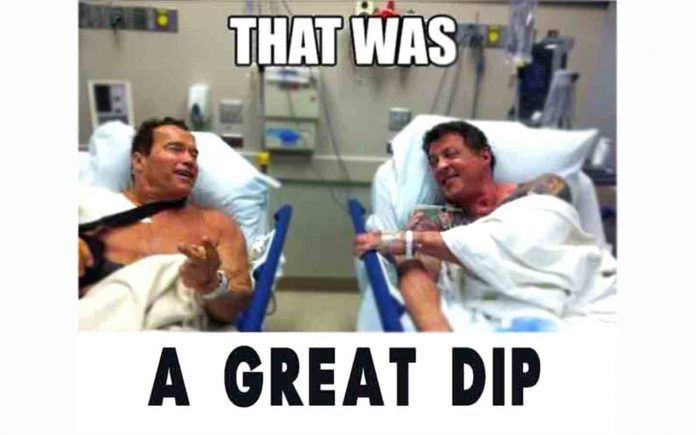 Let's be honest; being a cryptocurrency holder means you'll never have an ordinary life. In other words — you dedicated your life to experience a constant fight between happiness and sadness.
You are the one, who took this crazy path of the crypto world.
Your blood will never be the same. All PUMPS and DUMPS will fill your blood with extremely high doses of adrenaline. Your relationships fluctuate equally with your bank account.
On piplum.com, We will try to make your crypto trader's life more miserable by exploiting all aspects of holding cryptocurrency.
Ok, we are joking, these funny crypto pictures, quotes, or stupid memes about the crazy world of cryptocurrency will not make you smarter, but at least, it will squeeze that beautiful smile on your face.
Anyway, you don't need to take anything serious here.
Any crypto joke is just a joke made to ease your emotions during crypto market volatility.
Have fun, and enjoy life guys!
"I hold crypto".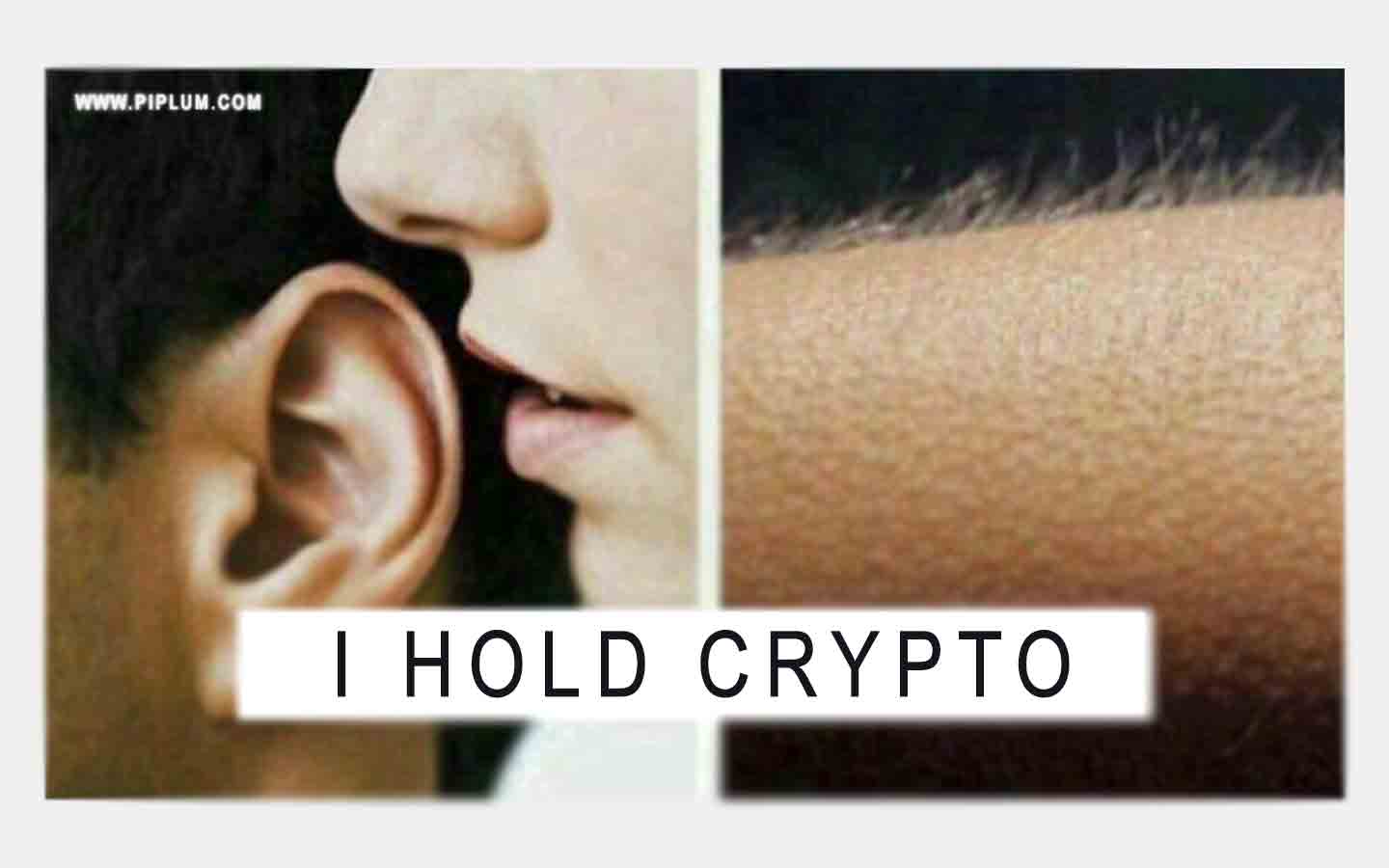 You might like these uplifting motivational quotes for 2022: The Best Motivational Quotes 2022. Praise Yourself And Stay Positive!
The Godfather of Crypto. Funny Jokes About Bitcoin.
Before jumping to bitcoin, we wanted to remind you the number one rule of trading crypto:
Buy high, sell low.

No 1 rule of trading crypto. Buy high, sell low.
It's an undeniable truth – Bitcoin is the king of crypto. You can love it, and you can hate it. But when this sugar daddy of crypto starts moving, you better be ready with your mental health.
Here are some of the most funny jokes and memes about bitcoin:
Bitcoin is like sugar daddy.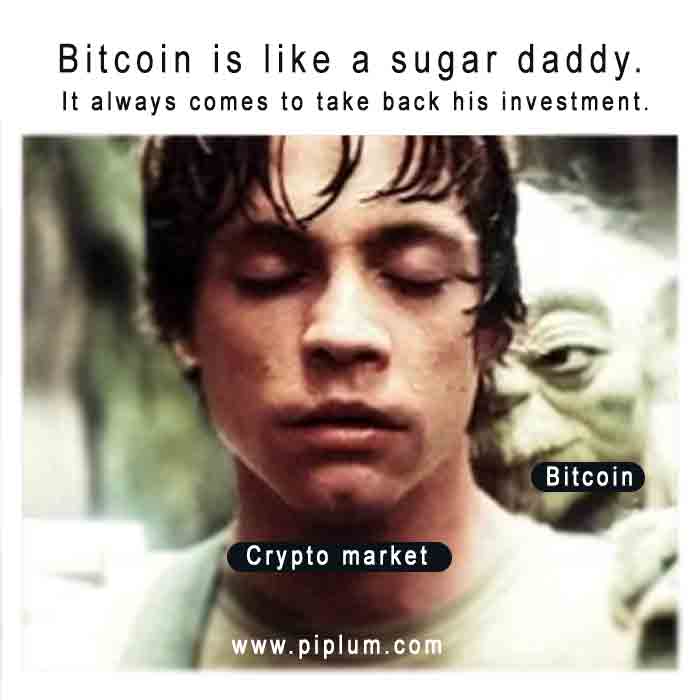 Bitcoin is like a slave master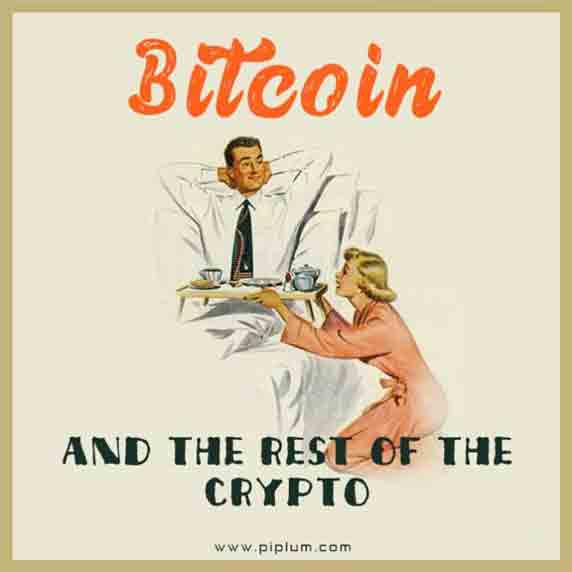 It's classic. Bitcoin to the moon. (Or any other crypto)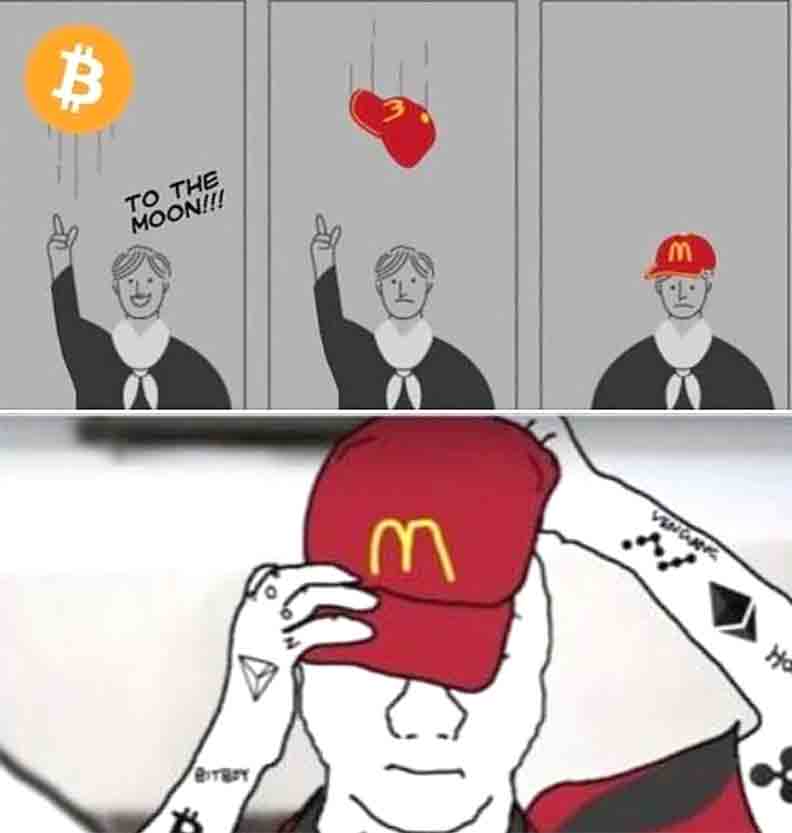 I invested in crypto I can't afford to loose. Crypto meme.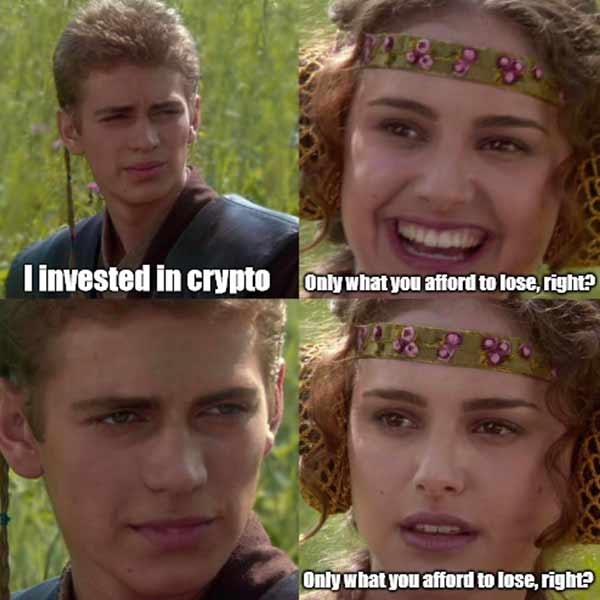 Sometimes crypto might really take you to the moon.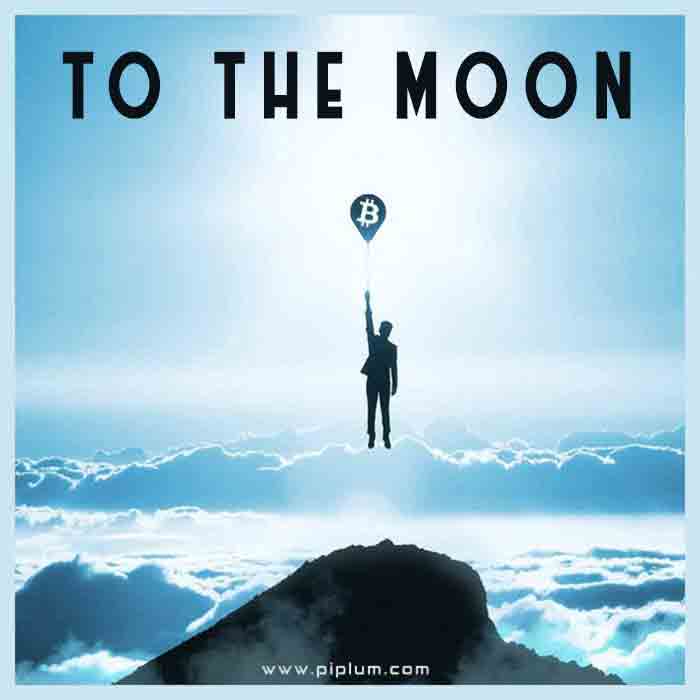 Bitcoin says: congrats for losing all your money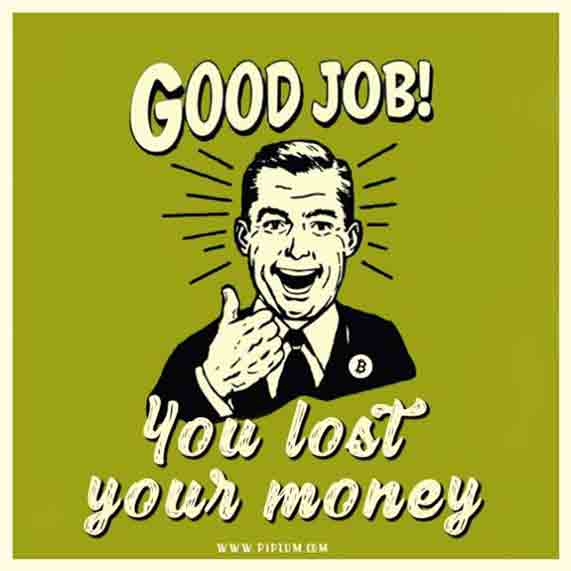 When Bitcoin trying to bring all crypto market out of the dip.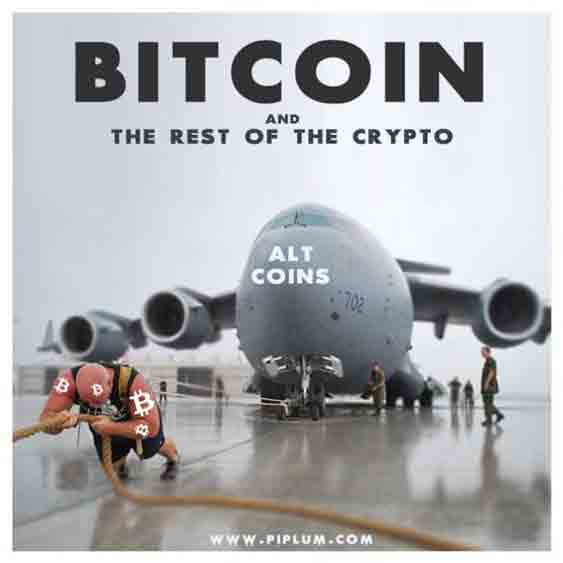 Sarcastic view from classic perspective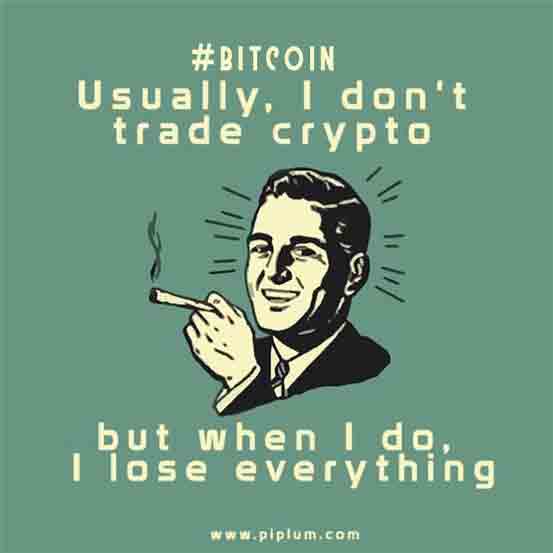 If you need some positivity without checking these stupid crypto memes, we recommend this article: https://www.piplum.com/featured/blast-your-negativity-away/
The Best Cryptocurrency Jokes. Stay Positive With Saracastic Crypto Memes.
We all know the feeling when your money melts like butter under the sun. These constant dips can be the number 1 reason for your mental breakdown or the perfect opportunity to buy even more crypto.
Let's buy the dip? Ok, Let's do this!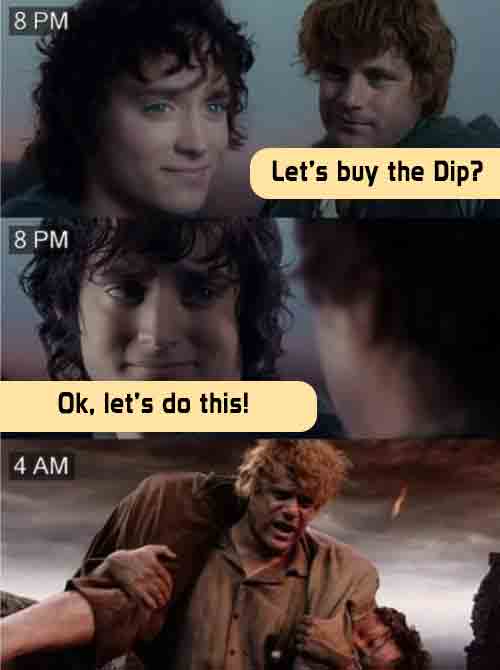 But you already know this stuff. All you need just a sarcastic reminder about the world of cryptocurrency.
During the peak of cryptocurrency volatility, sometimes you can feel that your soul is leaving your body.
The feeling that your money deposit melting so fast makes you crazy. This is, in a good way, hard to imagine, what people feel, when they lose all their money, for example, while drinking coffee.
Here are some of the most funny jokes and memes about cryptocurrency:
Funny Jokes About The Crypto Dip
Crypto dip is the moment of your life when you start regretting… Regretting everything.
Holding Cryptocurrency might be harder than real physical pain.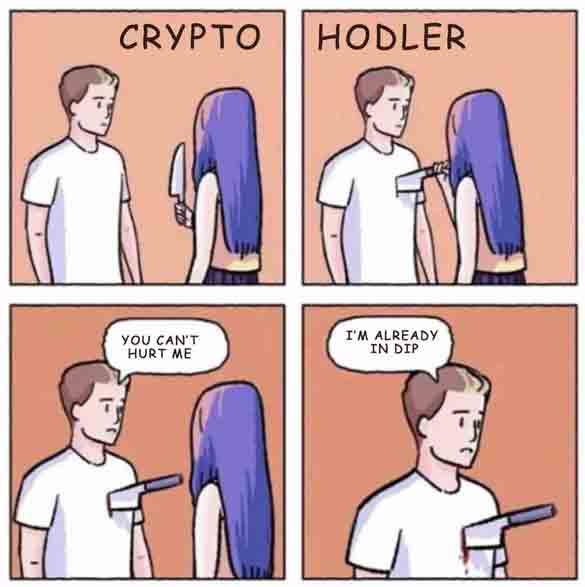 Just bought a dip, but it keeps dipping. The funny reality of buying crypto too early.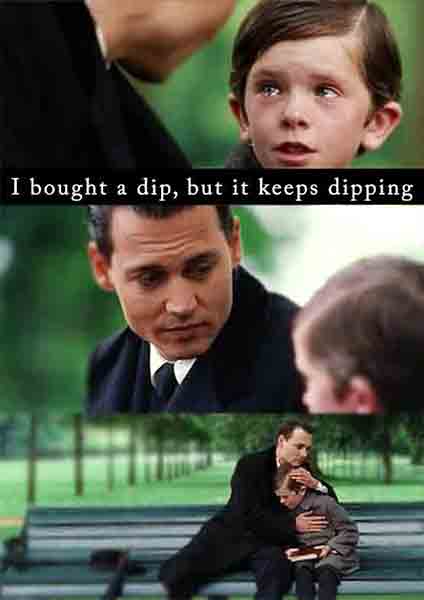 We all thought we bought THE DIP… Funny tales of crypto trading.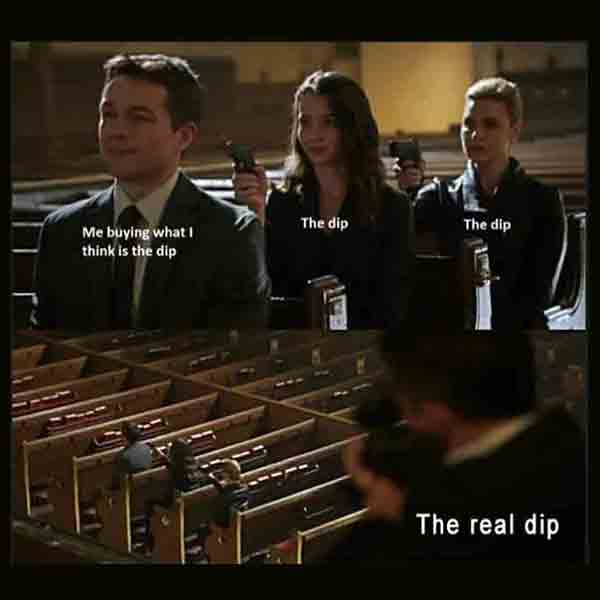 Some people say they were prepared for the dip. How can you prepare for this…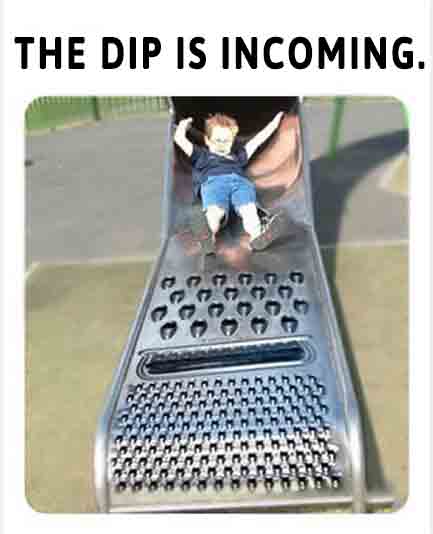 Feel the pain. When your money sinking like titanic did… Buying the dip…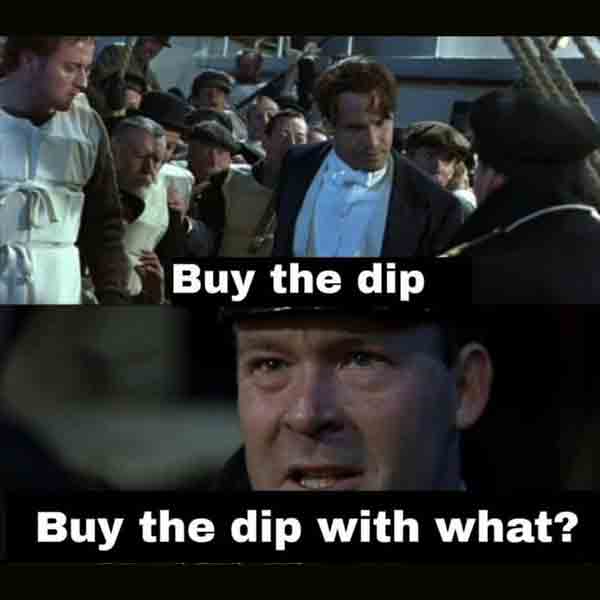 Bad habits buying crypto dips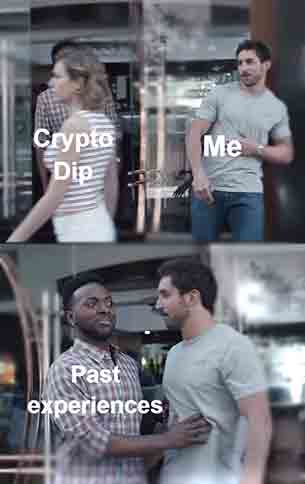 Homeless but still buying the Dip… The harsh life of trading cryptocurrency.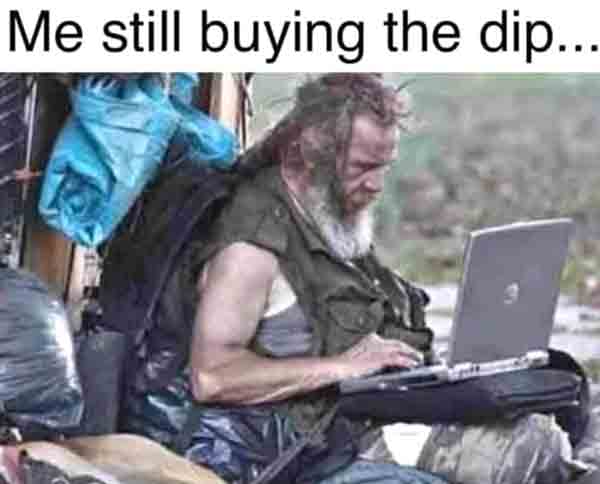 Don't wait for anything, and don't blame anyone, just buy the dip.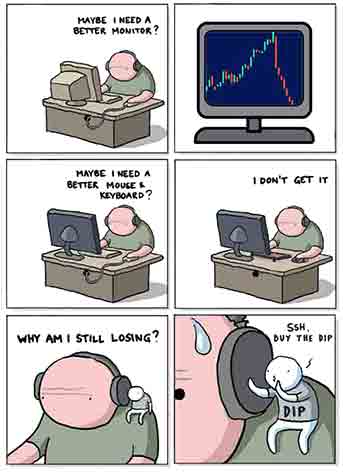 Dip inside the dip.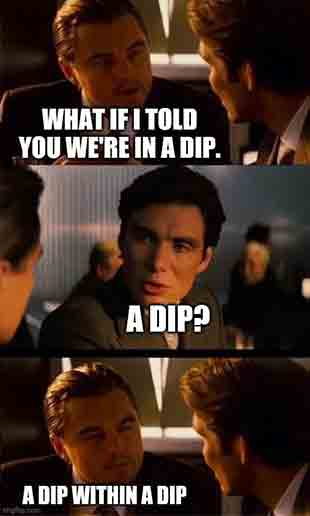 The Best Jokes About Holding Crypto
Even Keanu Reeves is aware of pain caused by holding crypto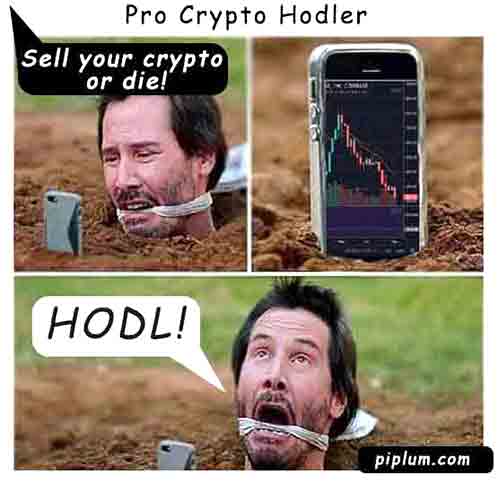 Buy or sell? Hold! Don't ask stupid questions. Funny crypto joke.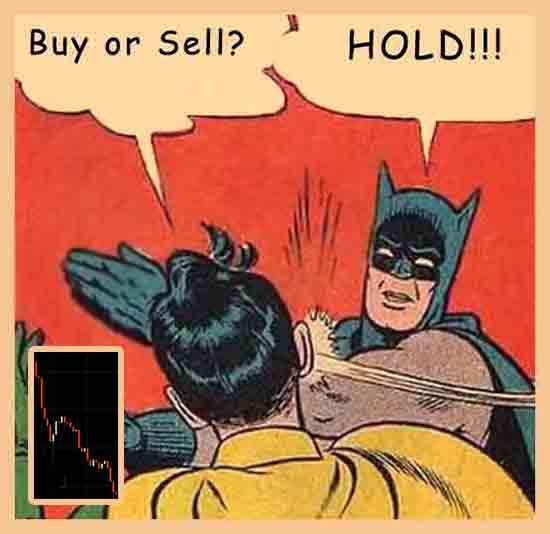 Sometimes we hold too much of different crypto. We need to learn to let it go.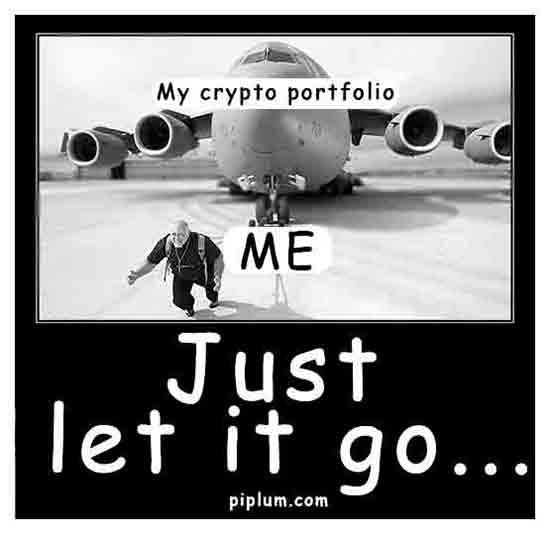 Time slows down when you buy crypto. Especially when you hold.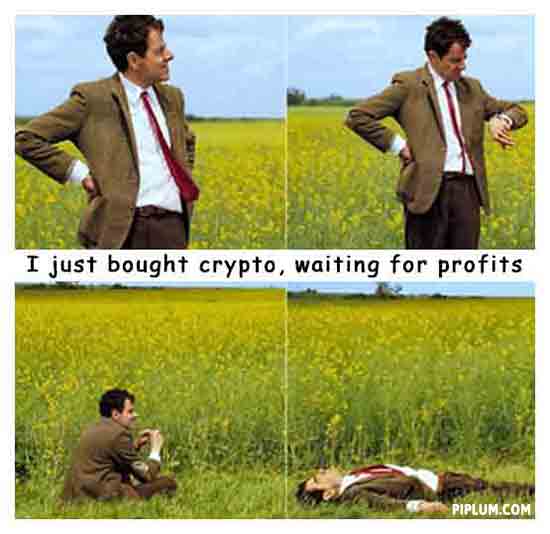 And one more time: Buy the Dip!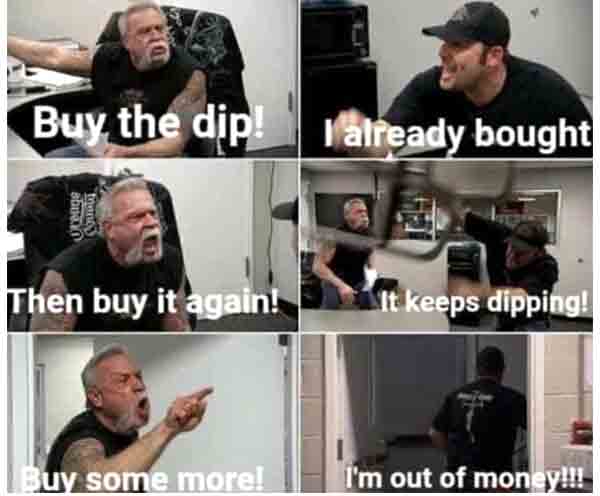 Sleepless nights while holding crypto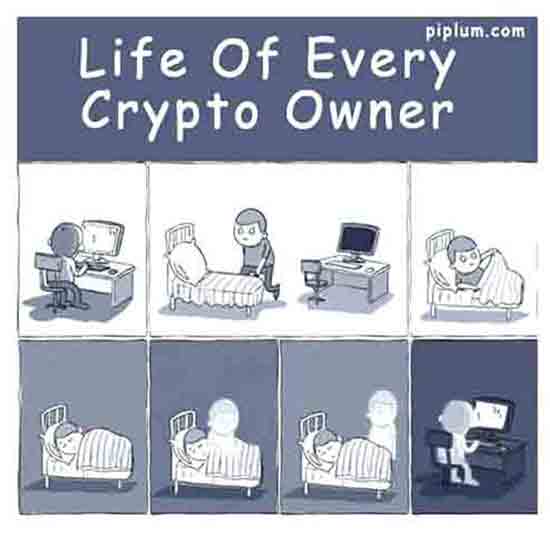 I didn't hold. I lost my house.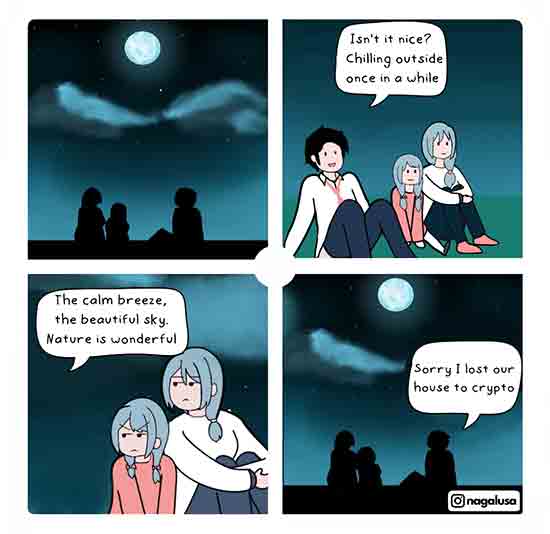 Holding shitcoins. I mean holding altcoins.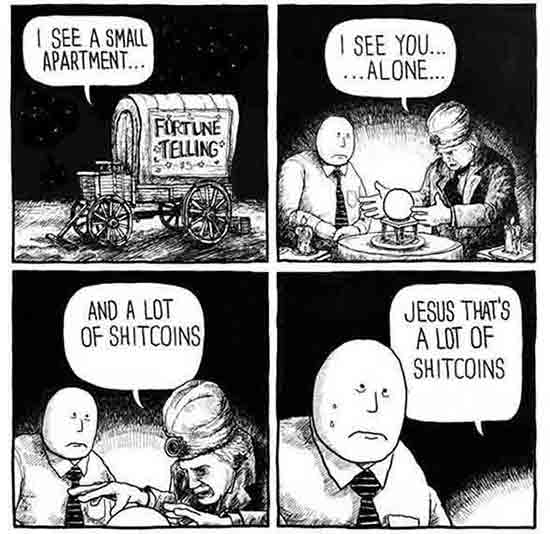 Being a Part of Crypto World. Funny Cryptocurrency Pictures at It's Best.
Trading crypto, you might start dreaming about a beautiful future with full pockets of money and beautiful girls jumping to the ocean out of your yacht.
Oh, my dear HODLER, You are the reason these funny cryptocurrency pictures getting more and more attention.
Simple as it is. Life after discovering crypto.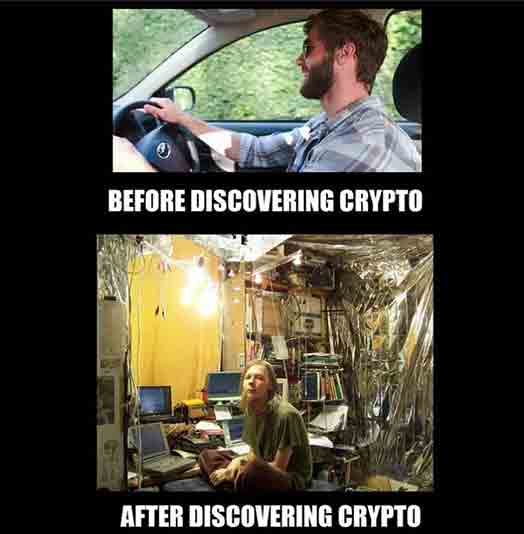 The bull market makes you a golden prince. Meanwhile, a bear market makes you… Well… It shows who you really are.
Good Old Days When The Crypto Dream Was Real. At Least You Thought Soo..
All crypto starters think that money they invested will soon be tripled or quadrupled. But as we all know, they quickly become a part of these funny memes.
Chasing A Crypto Dream.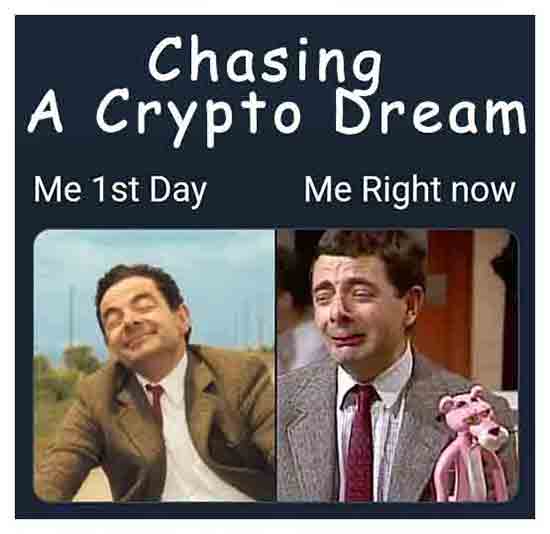 I miss you. Or should I say my crypto is fcked up…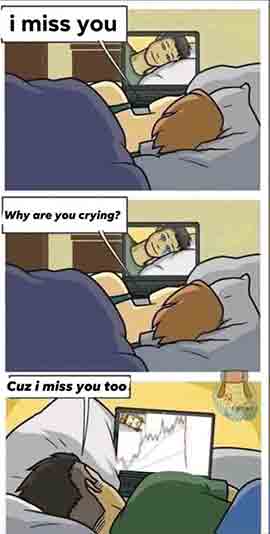 No sleep when holding crypto.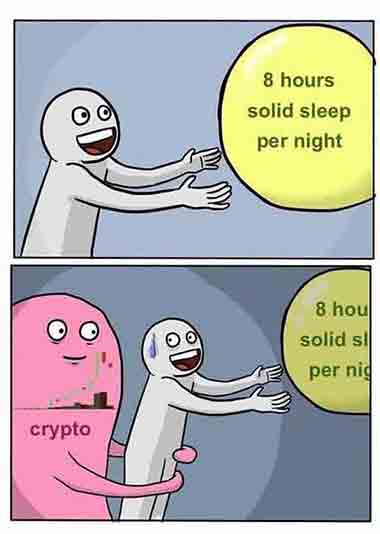 The tough life of cryptocurrency holders/hodlers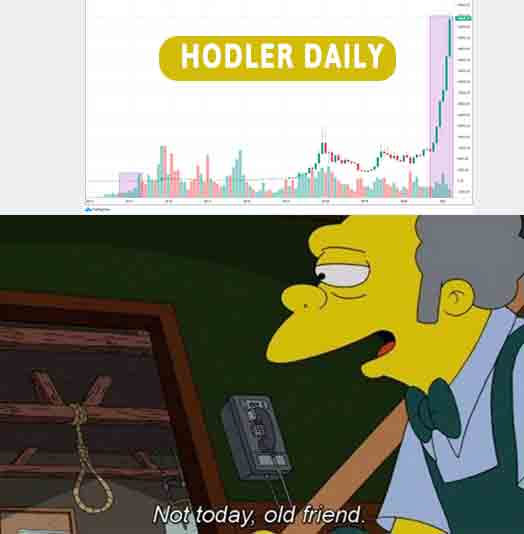 A special crypto meme delivery from Elon Musk.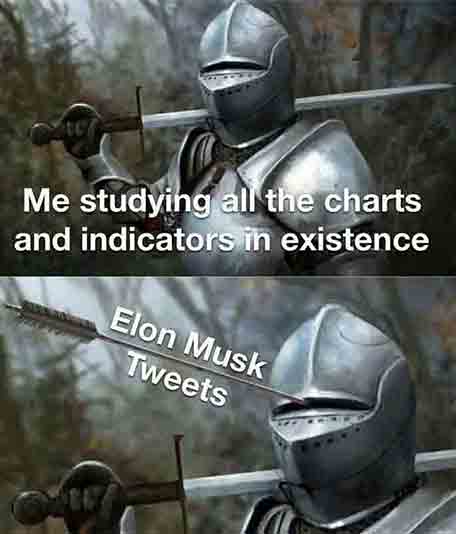 The funny and sad reality of cryptocurrency. Buy, Sell Or Hold.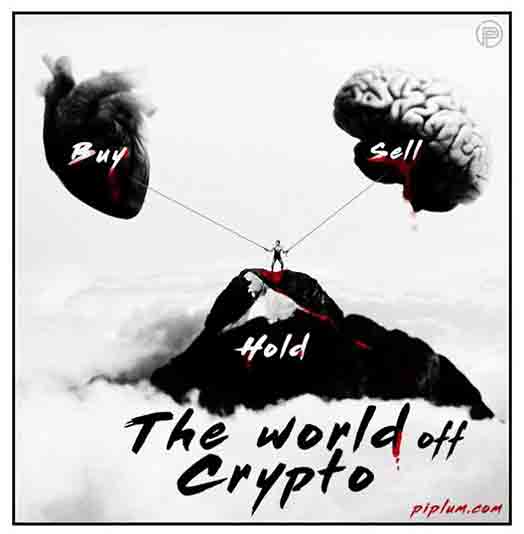 After All, Trading Crypto Is A Fun Thing To Do
Trading crypto is brutal. But with a little bit of fun, you can really get some benefits from it.
Are you afraid? Only losers can feel like that. Victorious people never get confused. You know what You want. You know what You do. Remember, You are a professional trader. Do not be shaken by tides. Financial tides always exist. You cannot avoid, You cannot escape, Just accept it and Focus on your goal with happiness. We know what we want. We know why we are patient.
So buy, sell and hold crypto. Have fun and enjoy life, guys!
Check our amazing NFT collection: IOTA Scientists NFT Collection. No Fee. Soonaverse Marketplace.
What happened to him? He was trading crypto…