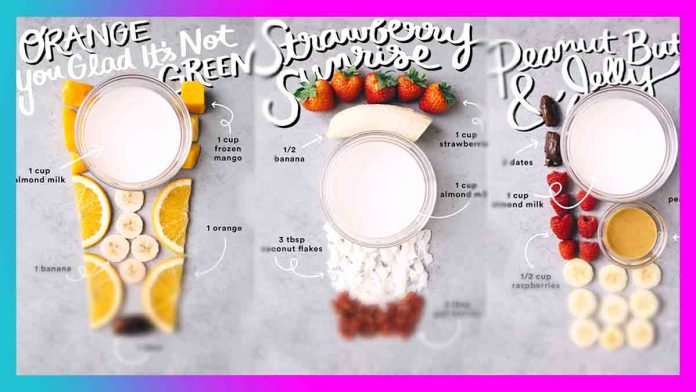 "Our Health is not everything, but without health, everything is nothing "Socrates once wrote.
He was not mistaken. So in an increasingly fast-paced world, it's especially important to be able to take care of yourself.
The first step is a healthy diet.
It is not only a way to productivity, energy, but also a great way to improve the figure's tendencies and improve well-being.
Rule number one – a balanced diet and sport.
Probably everyone knows what the meaning and benefits of sport and a balanced diet are.
However, this often lacks time. Excellent advice is to follow a specific schedule.
If you do not have time for sports clubs – actively spend your free time, walk a lot.
If you don't manage to eat on time, at least eat healthily. Include as many vegetables and fruits in your diet.
Don't wait for tomorrow, start now.
Don't wait for tomorrow, Monday, or next week.
Let's begin with a motivational quote for smoothie lovers: 
Stay Cool, Drink Smoothies
After all, we have all heard the phrase "From tomorrow I will start living healthy". This usually does not happen. Take action immediately.
Then the rest of the summer, the holidays, and the coming autumn or winter will shine in completely different colors. You will feel lighter, the most laborious work will be overcomed, plans will be implemented.
After all, health and your well-being are the most important things.
Simple and Fast Smoothies:

Cleansing Smoothies And Low Carb Shakes
Cleansing cocktails are one of the most delicious ways to help cleanse the body of harmful toxins and radicals.
A fruit or vegetable cocktail is easy to incorporate into your daily diet routine and thus help your body.
You might like: Food For a Healthy Gut. Discover Purple and Blue Fruits and Vegetables.
At the same time, the body receives the required daily dose of vitamins and minerals.
We have five recipes for delicious, healthy, and cleansing cocktails for you.
Check this list for low carb shakes and smoothies: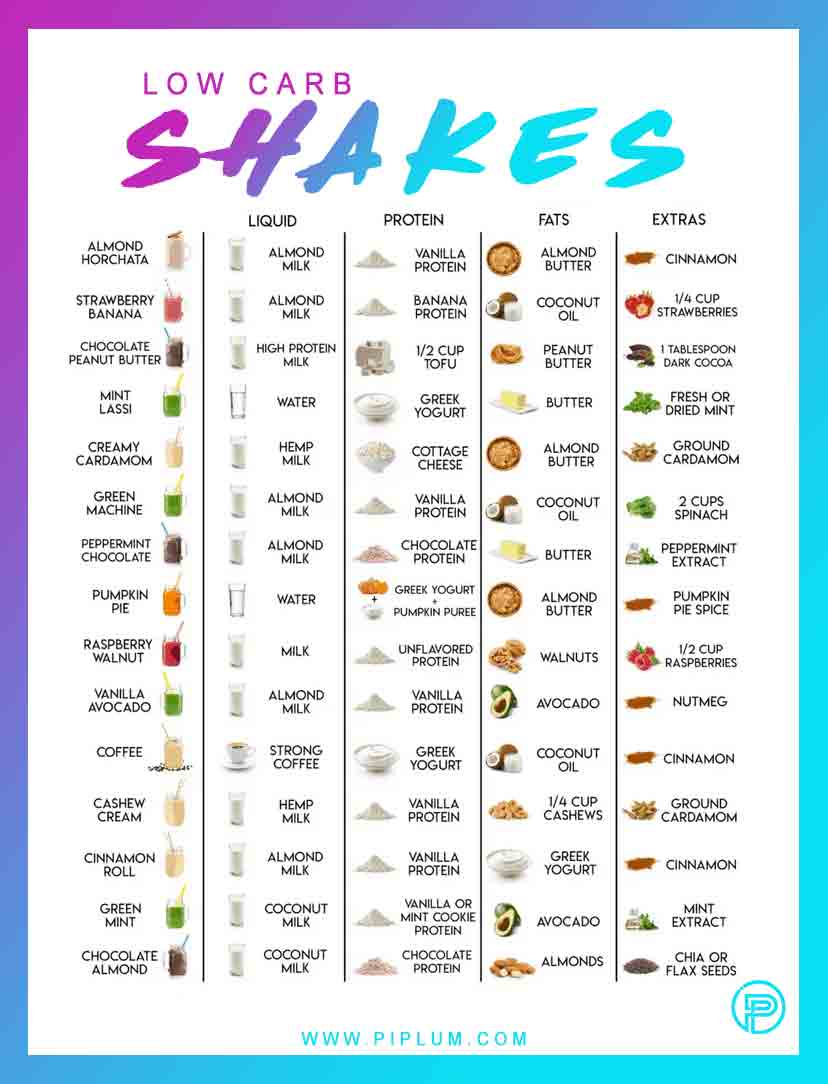 1. "Berry power" Berries are what you need to cleanse the body.
Thanks to their antioxidants and fiber, they do a great job of this. Antioxidants are substances that neutralize free radicals. In particular, they can stop the formation of free radicals, or they can prevent the oxidation reactions of these radicals and thus reduce the damage caused by free radicals to our cells.
Blueberries, raspberries, and blackberries have different and very useful substances for the body, so we will put them all in a cocktail! You will need ½ a glass of berries (blueberries, raspberries, blackberries), ½ a glass of coconut milk, 1 glass of water, a few tablespoons of oatmeal. Whisk all ingredients with a whisk until smooth.
A bright and forest-scented cocktail will give a great mood to your morning.
2. "Ginger cartridge" Ginger root does an excellent job of cleansing the body.
The exceptional taste of ginger perfectly awakens the body, so this cocktail can replace morning coffee. You will need a piece of ginger, 1 teaspoon of cinnamon, 1 handful of spinach, 1 glass of water.
Ginger has a very strong antioxidant effect, it is the best remedy against slag and toxins. It also strengthens the immune system, slowing the growth of bacteria. Ginger is a great slimming tool because it stimulates metabolism.
3. "Very green cocktail" In this cocktail, you can shake all the green ingredients that you will find in the refrigerator!
We advise you to choose these products not only for a healthy but also for a delicious cocktail. You will need ½ cucumber, a handful of spinach, ½ avocado, 1 celery stalk, twigs of fresh mint leaves, 1 kiwi, 1 glass of water, ½ apple, lemon juice.
To get the full benefits of fruits and vegetables, use organic products. After all, you don't want hybrids and pesticides to ruin a real vitamin and antioxidant bomb!
4. "Extreme detoxification"
You will need: ½ carrots, ½ pears, a handful of boiled broccoli, 1 glass of water. Try this cocktail, and you will understand how delicious body cleansing can be! Add your favorite healthy ingredients to the cocktail, the great taste will make it easier to develop a healthy habit.
5. "Chocolate cocktail" Great news for sweet tooths.
Chocolate can be used as a great detoxifier! You will need: 1 tablespoon of dark cocoa powder, ½ a glass of coconut milk, ½ a glass of strawberry, 1 glass of water or ice cream. Dark cocoa contains many antioxidants that cocoa usually does not have.
Dark cocoa does not contain sugar. The amount of caffeine in cocoa can vary from manufacturer to manufacturer, but it is low enough to affect people who are very sensitive to caffeine.
Related: Discover Magical Properties of Flaxseed Oil. Healthy Nutrition For Skin, Hair, And Body.