Sports professionals are noticing that there is a huge increase in the number of people in sports clubs after the big spring holidays. They seem to "wake up" after hibernation and want to prepare their bodies – especially the ABS/six-pack – for the warm season as soon as possible.
But many of them lack motivation to do that—Thats why Piplum prepared some motivational six-pack quotes to uplift your exercising routine.
Strong abdominal muscles are needed to keep the body strong, balanced, and the posture correct.
Training the six-pack is important because they stabilize the body, spine, and internal organs.
The most important thing is to train these muscles thoroughly – performing both static and dynamic exercises.
Static exercises put a strain on the deep muscles of the torso, which are stabilizing exercises such as various variations of the "board".
Push harder than yesterday if you want a different tomorrow.
Dynamic exercises, such as lifting or twitching the legs, develop intramuscular coordination and stabilize the muscles that keep the pelvis and lower back in a neutral position.
What seems impossible today will one day become your warm-up.
In terms of the frequency of training, the abdominal muscles (or the abdominal press), like others, should be trained 2-3 times a week, depending on the goals, according to an appropriate diet plan.
If it was easy, would it be worth it?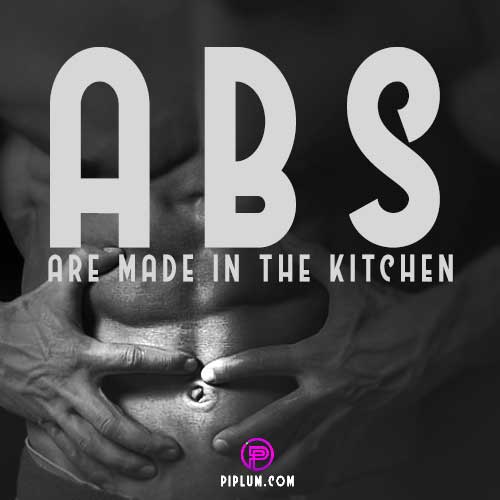 You might like these motivational fitness quotes: Motivational Push-ups Quotes, Smash That Gym Ground!
Fitness Quotes About Six-pack
You are doing the exercises for the six-pack incorrectly.
Remember why you started.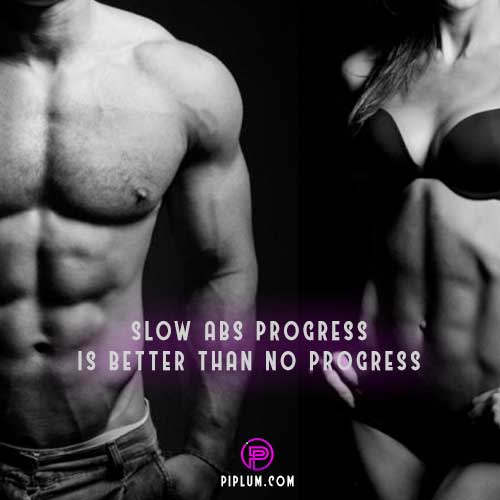 Some of them are completely ineffective, so you can do it for a long time, and you won't get a result with a six-pack.
Don't stop when you're tired. Stop when you're done.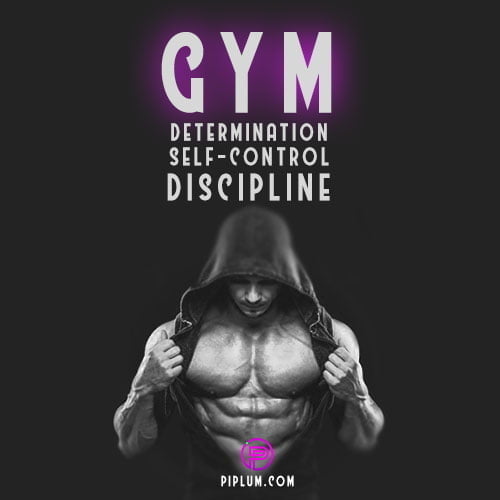 Classic bends put a lot of strain on your back, and if done wrong, can only hurt. So you are improving the six-pack by choosing variety instead of doing the same exercises repeatedly.
Don't wish for it – work for it.
You eat too much "wrong" food
If you haven't heard the saying – six-pack is not born in the gym, but in the kitchen, listen well.
If it doesn't challenge you, it doesn't change you.
In other words, if you want a flat tummy, then a healthy diet is the most straightforward path to a dream figure. We can do thousands of bends, but it will all be in vain if we consume too many calories because the six-pack will be hidden under the fat.
If you're persistent, you'll get it. If you're consistent, you'll keep it.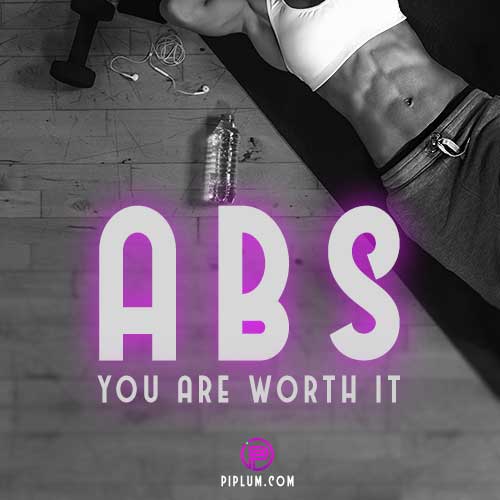 You must give up alcohol, sugar, as little as possible refined carbohydrates – pasta, bread, potato chips, but with the pleasure of tasting legumes, chicken, fish, skimmed milk products.
Gym Quotes About Six-pack
Sugar substitutes
Have a purpose, and you won't need motivation. Six-pack quote.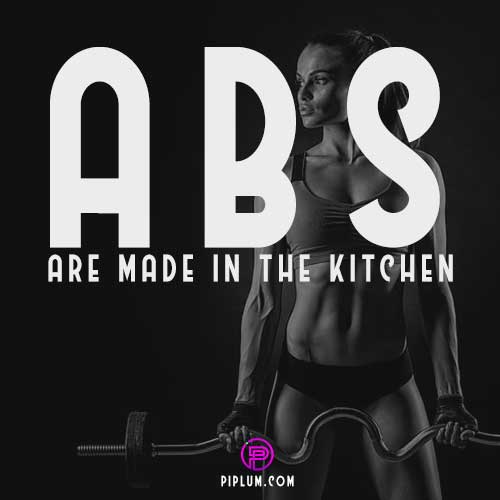 When we try to avoid sugar, we run into another danger when choosing products that contain sugar substitutes, such as bread, some sweets, bars. Maybe you even drink coffee with sugar-free sugar substitutes?
A healthy lifestyle is something we refine over time, not overnight
Do you drink sugar-free carbonated drinks and chew sugar-free gum? Don't be fooled, as most of them are far more harmful than the sugar itself, but this, which causes bloating, can even cause diarrhea.
The master has failed more times than the beginner has even tried.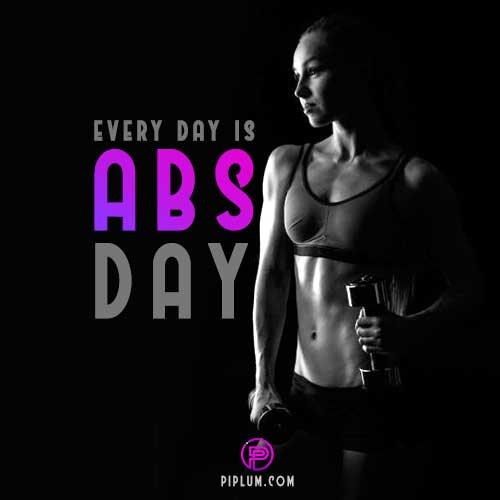 You eat products that promote bloating.
Such products are really plentiful, such as low-calorie bread, some fruits, vegetables, carbonated drinks, etc. Experts advise looking closely at foods rich in salt, as salt retains water in the body, making us feel heavy and bloated. Do not add protein products in one sitting, as they also promote bloating.
We don't need to be perfect… we just need to get started.
Products that are difficult to digest and are not suitable for most people are gluten and wheat, more precisely bread, pasta, pizzas, cakes, instant porridge, and alcohol, yeast, cheese, butter, fat, milk. Gluten has a particularly negative effect on the intestines, which causes the stomach to swell.
Continuous improvement is better than delayed perfection
You sleep little
Lack of sleep can have a big impact on weight, so if you've been sleepy lately, it's likely that your tummy won't give you peace of mind either. Lack of sleep affects your blood sugar, hunger hormones, and even how many calories you burn.
Workout Gives You A Pure Energy And Inspiration.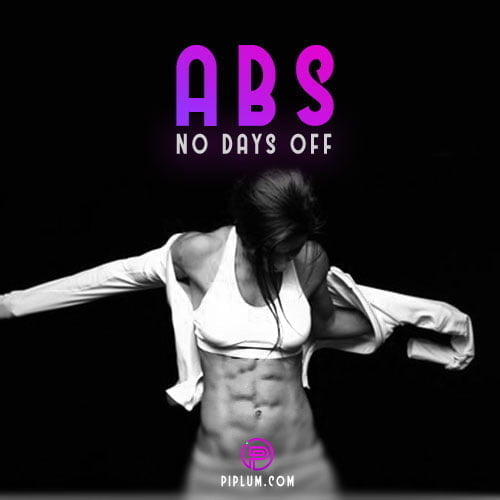 Sleep magazine reports that those who slept an average of 6 hours a night experienced 27 percent. Higher risk of obesity compared with those who slept for 7-9 hours. By the way, this number for those who sleep in just five hours rises to 73%!
You might like: Motivational Squats Quotes. Smash That Exercise, Shape Your Ass!
You do not include high-intensity interval workouts.
If you read other people's success stories, you may be inspired to take the initiative yourself.
Such workouts help you burn more calories and give your body the shape it wants faster. In addition, tried and tested trainers believe that such a sport destroys fat faster and fat burns even after a workout. That's why it's worth trying out these workouts, which also speed up your metabolism.
You might like: Claim Your Rights for a Perfect Booty!!! Butt Exercises for Women. [Guide]
You are a stress magnet.
DO YOURSELF AND YOUR BODY A FAVOR – GO TO THE GYM.
High stress affects the release of the stress hormone cortisol, which also affects other hormones in our body, which can lead to weight gain. No matter how sad, fat accumulates in the abdomen due to stress. Yoga, meditation, breathing exercises help; it is written prevention.
You might like: The Moment I Began To Sculpt My Body. Motivational Fitness Quotes.
You overeat before your workout.
The beginning is the hardest.
There is a big difference between whether you eat for energy or to feel really full. The ideal snack before sports should have some good fats, composite carbohydrates, and protein, so try not to overeat before sports and follow the principles of a healthy diet.
Sometimes a workout is all the therapy you need. Body fat melting quote. 
Alcohol
Alcohol is not a good choice anyway, but it slows down your metabolism, so it's better to give it up altogether if you want a beautiful figure. In addition, it stimulates the appetite, so we eat more than we would like. In a word, he is a real enemy to anyone who desires a beautiful six-pack.
More motivational six-pack quotes: Abs Are Made In The Kitchen.
You're Not Moving At all. Six-pack Quotes.
Simple yet effective – exercise for at least 30-50 minutes every day to boost your metabolism and make yourself feel better.
Six-pack quote: Working out makes me feel free and alive.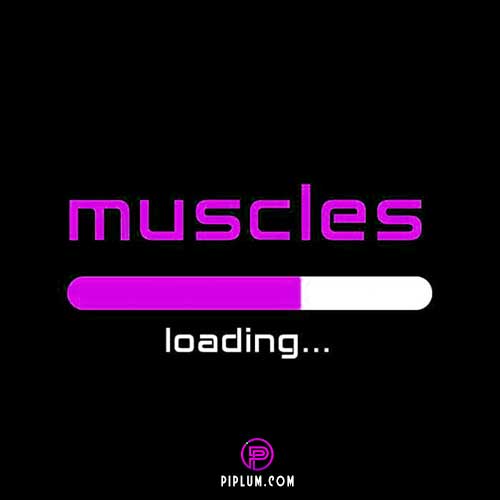 Experts say that cardio training beautifies shapes, and exercises like weights, such as yoga or pilates, and strength training, give the six-pack stiffness.
Your fitness is 100% mental! If your mind doesn't push harder, your body goes nowhere!
People often think that an hour of exercise every day is enough to make their belly fat go away, but researchers have found that sedentary work, especially if you sit for more than 4 hours a day, can be almost devastating to your shape.
You might like: Abs Exercises With No Equipment [infographic]
No pain, no gain. Shut up and train.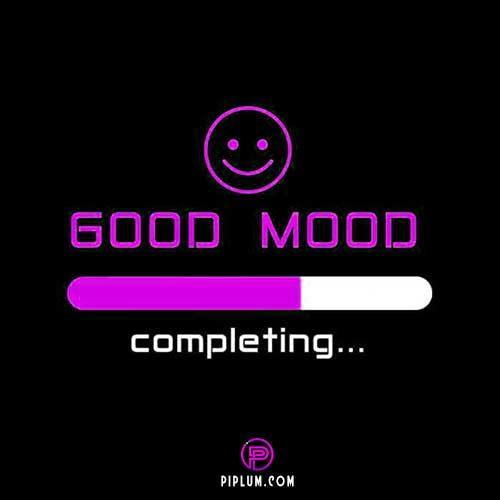 This not only promotes aging but also harms the figure, so it is necessary to do straps, take a walk and generally be as active as possible throughout the day. Just hours of sports are absolutely not enough!
You might like: Office Workout Can Help If You Don't Have Time To Go To The Gym