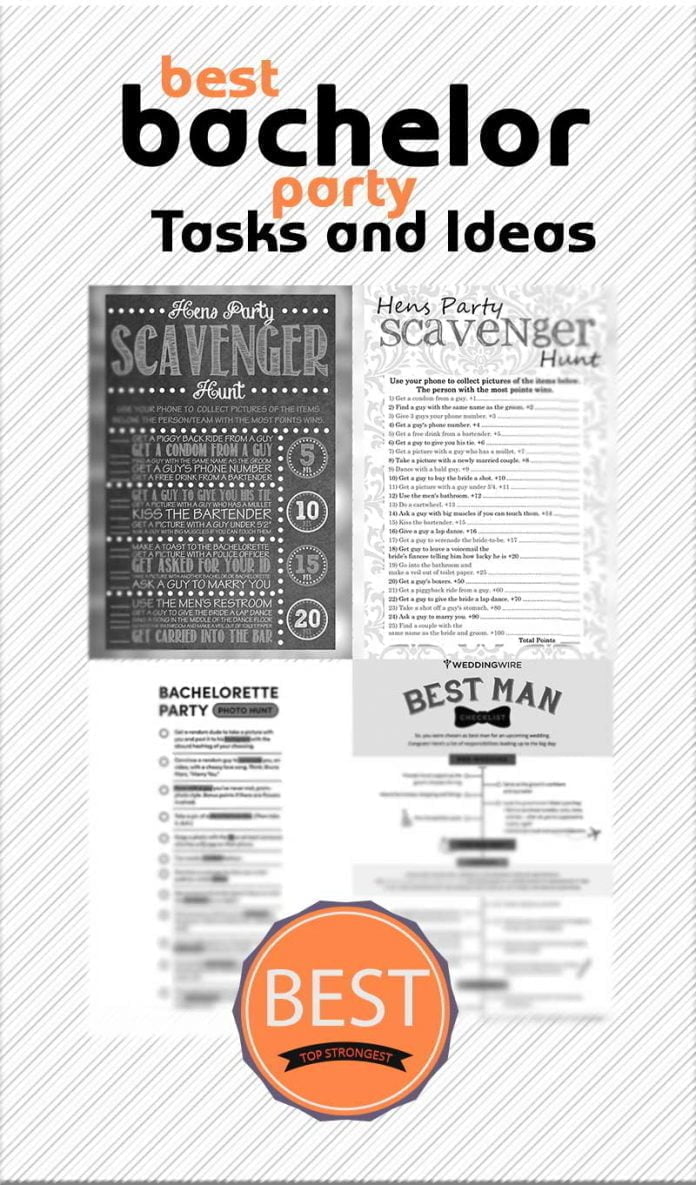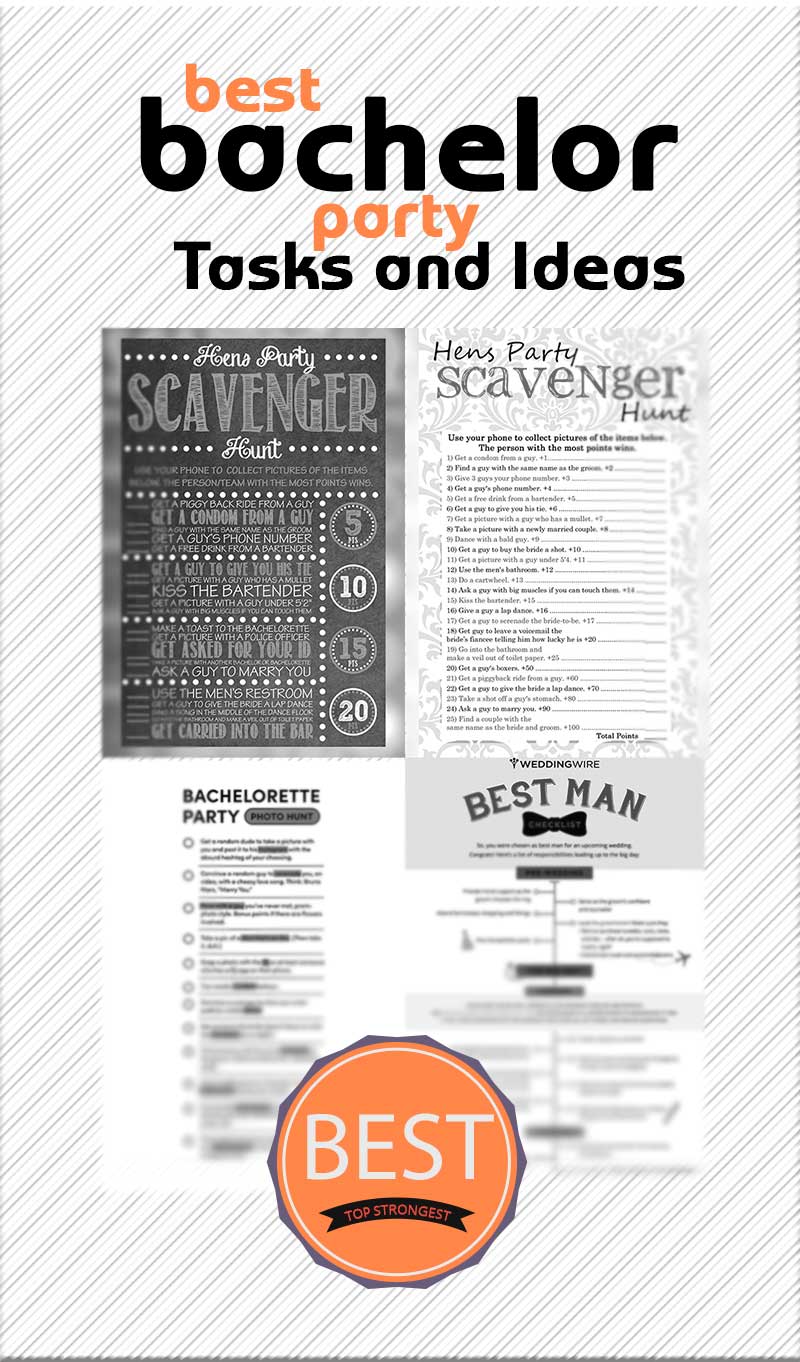 The Best Bachelor Party Tasks
The time has come, your best friend is going to marry… You are going to loose your pal… What're you going to do? Yes, you will make a best bachelor party ever. Or, maybe, you will make him to re-think his decicion to marry. Here you will find some bachelor party tasks and ideas to make that day fun and memorable.
Most important thing about bachelor party tasks is having FUN! So no matter what you do, it must have a sense of humor, craziness and stupidity. If you do not agree, well, better reconsider this idea to be a leader of this event.
Even you are doing some crazy stuff, don't forget to fit in the party theme and remember the Bachelor. Wile it's crucial you keep him in the dark for certain activities, the big man should ultimately dictate your destination.
Bachelor Party Posters
A bachelor or bachelorette party goes by many different names depending on where you come from: stag and hen, buck and doe, and bull.
But whatever name you call it, it should be a fun and memorable occasion as you send your best friend off into happy married life.  Usually, men do not share much of the adventures of that day, so I use the occasion and reveal what a really masculine and memorable bachelor party tasks looks like:
Scavenger Hunt
In this Hens party scavanger hunt poster you must collect pictures of various items.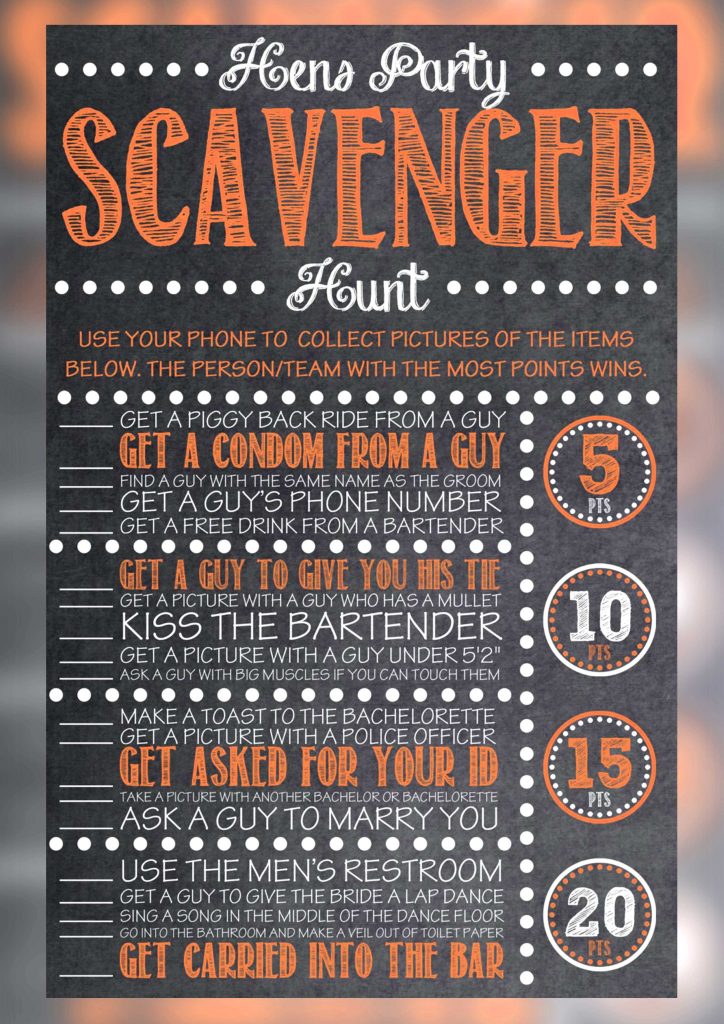 »Download Printable Scavanger Hunt Here«
---
Hens Party Scavanger Hunt
Use your phone to collect pictures. The person with the most points wins.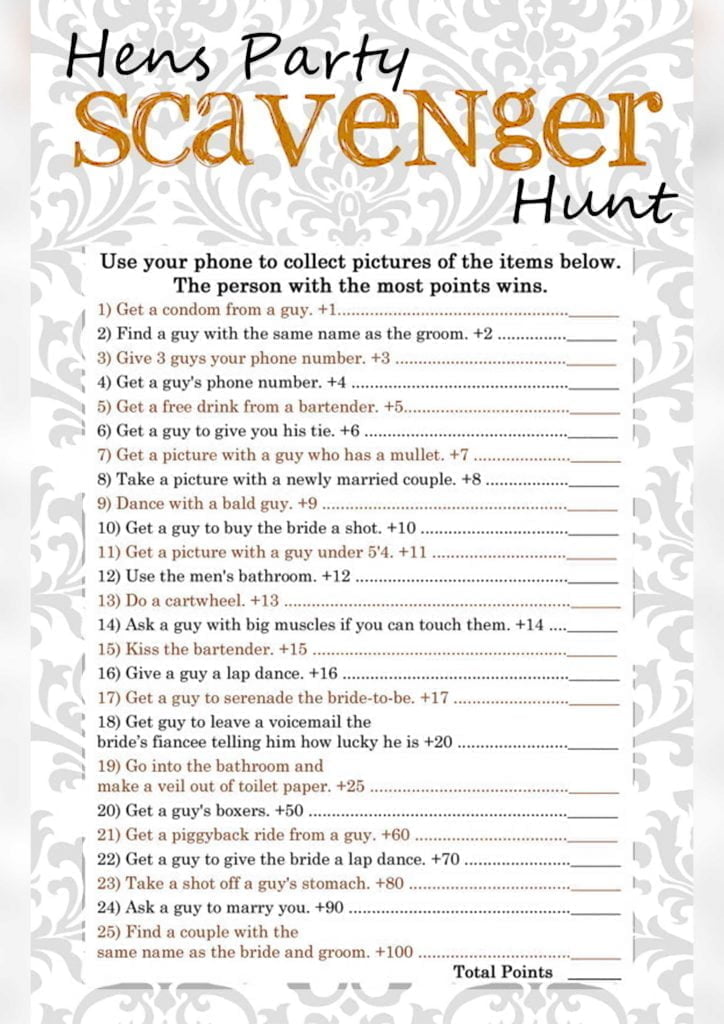 »Download Printable Scavenger Hunt Using Phone – Here«
---
Bachelorette Party Photo Hunt
One more great bachelorette Party Photo Hunt.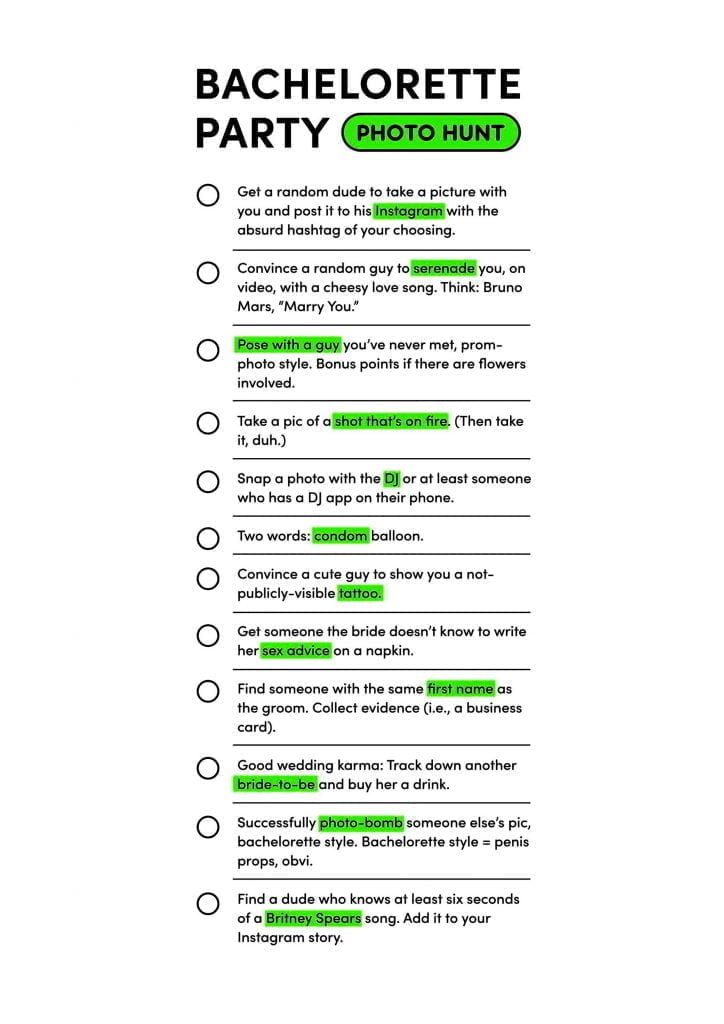 »Download Printable Scavenger Photo Hunt Here«
---
Best Man Checklist
If you were chosen as best man for and upcoming wedding. Here is a list of responsibilities leading up to the big day. If you read this list carefully, you will kill it as best man!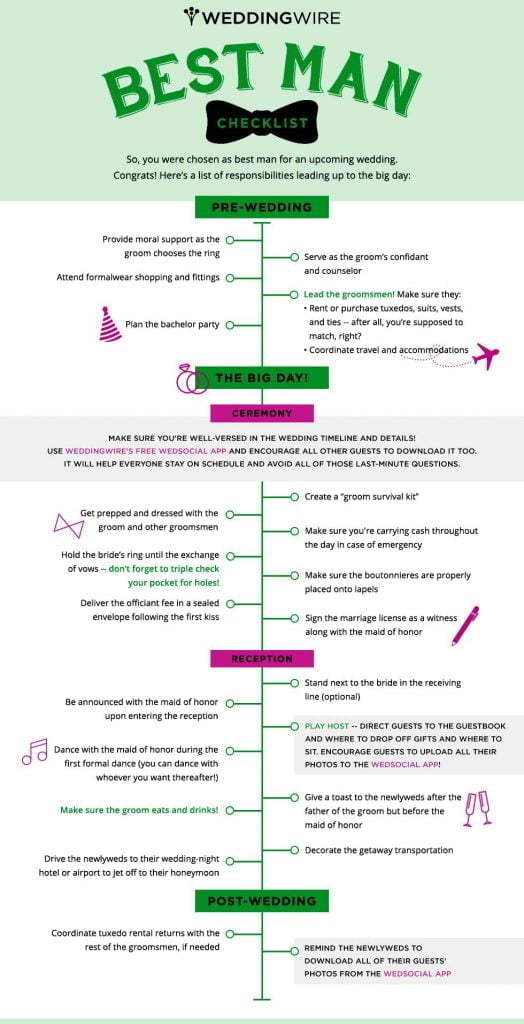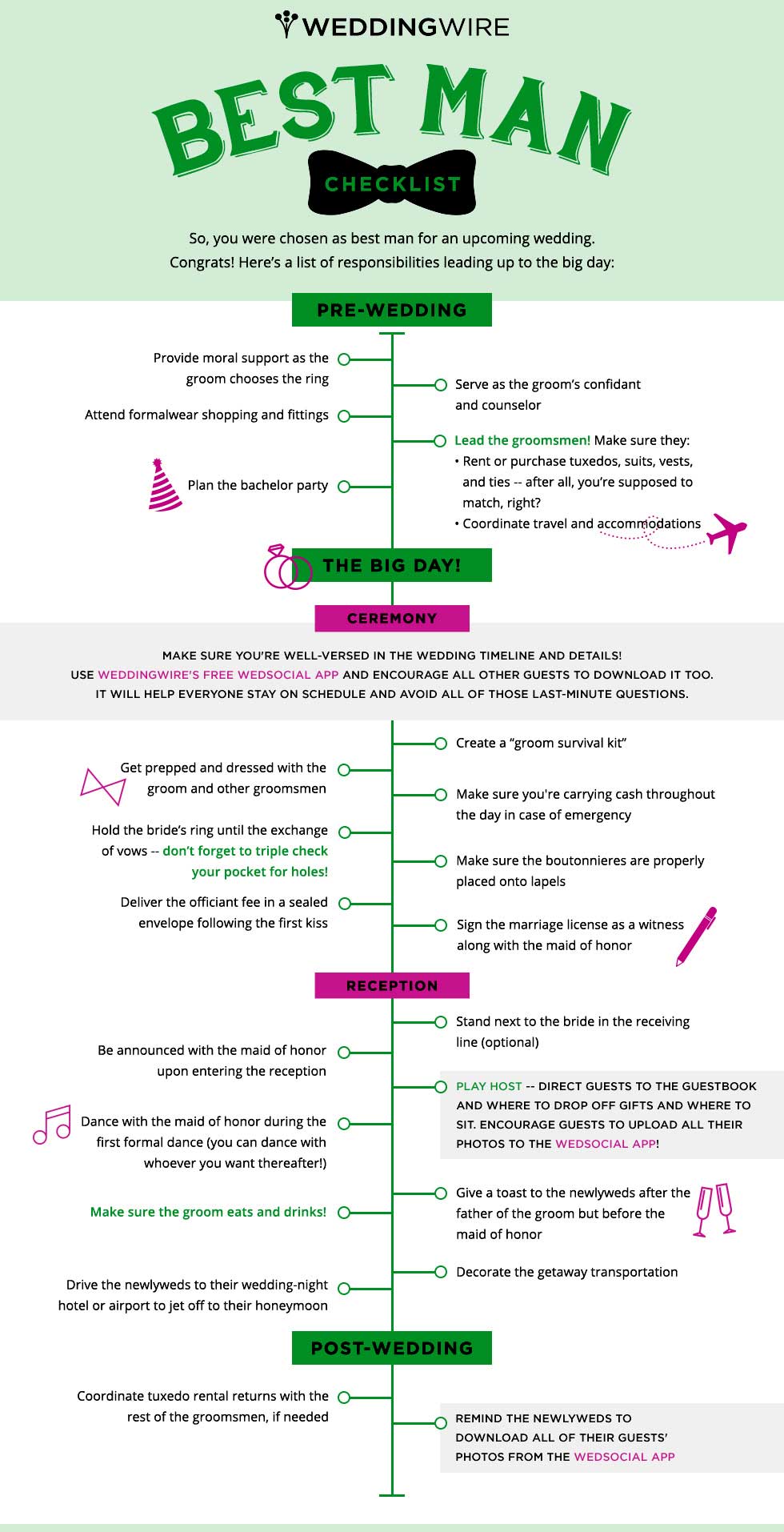 »Download Best Man Checklist HERE«
---