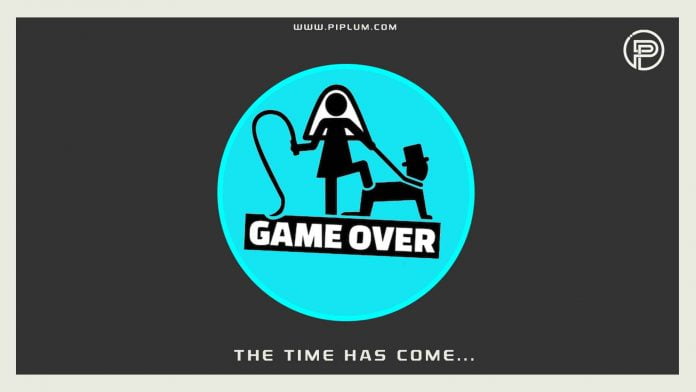 The time has come; your best friend is going to marry… You are going to lose your pal… What're you going to do? Yes, you will make the best bachelor party ever!
Or, maybe, you will make him rethink his decision to marry.
Here you will find some bachelor party tasks and ideas to make that day fun and memorable.
The most important thing about bachelor party tasks is having FUN!
Bachelor party. An opportunity to… At least one night in the life.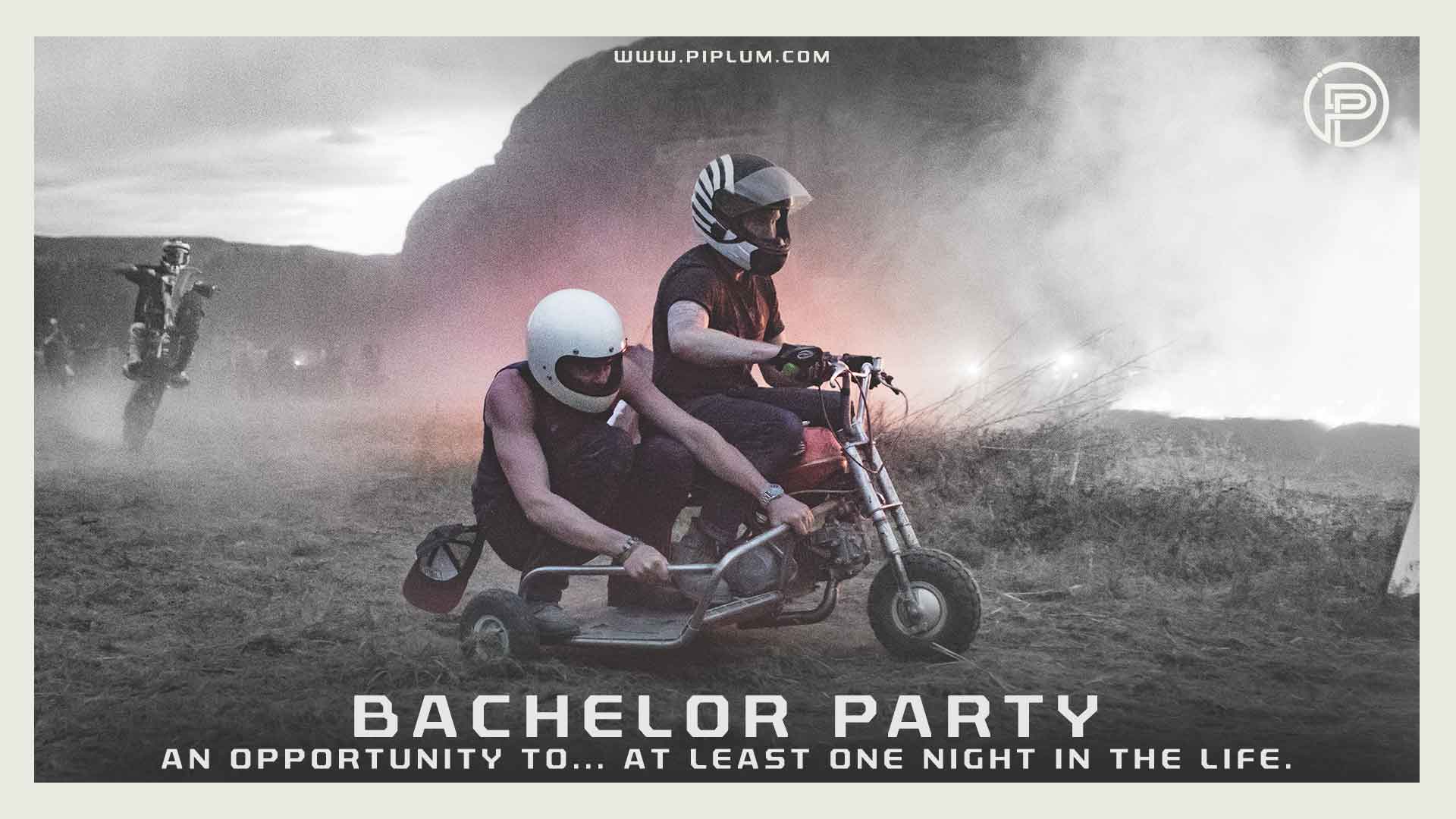 So no matter what you do, it must have a sense of humor, craziness, and stupidity.
If you disagree, well, you better reconsider the idea of being a leader of this event.
Even if you are doing some crazy stuff, don't forget to fit in the party theme and remember the Bachelor.
Wile, it's crucial you keep him in the dark for certain activities, the big man should ultimately dictate your destination.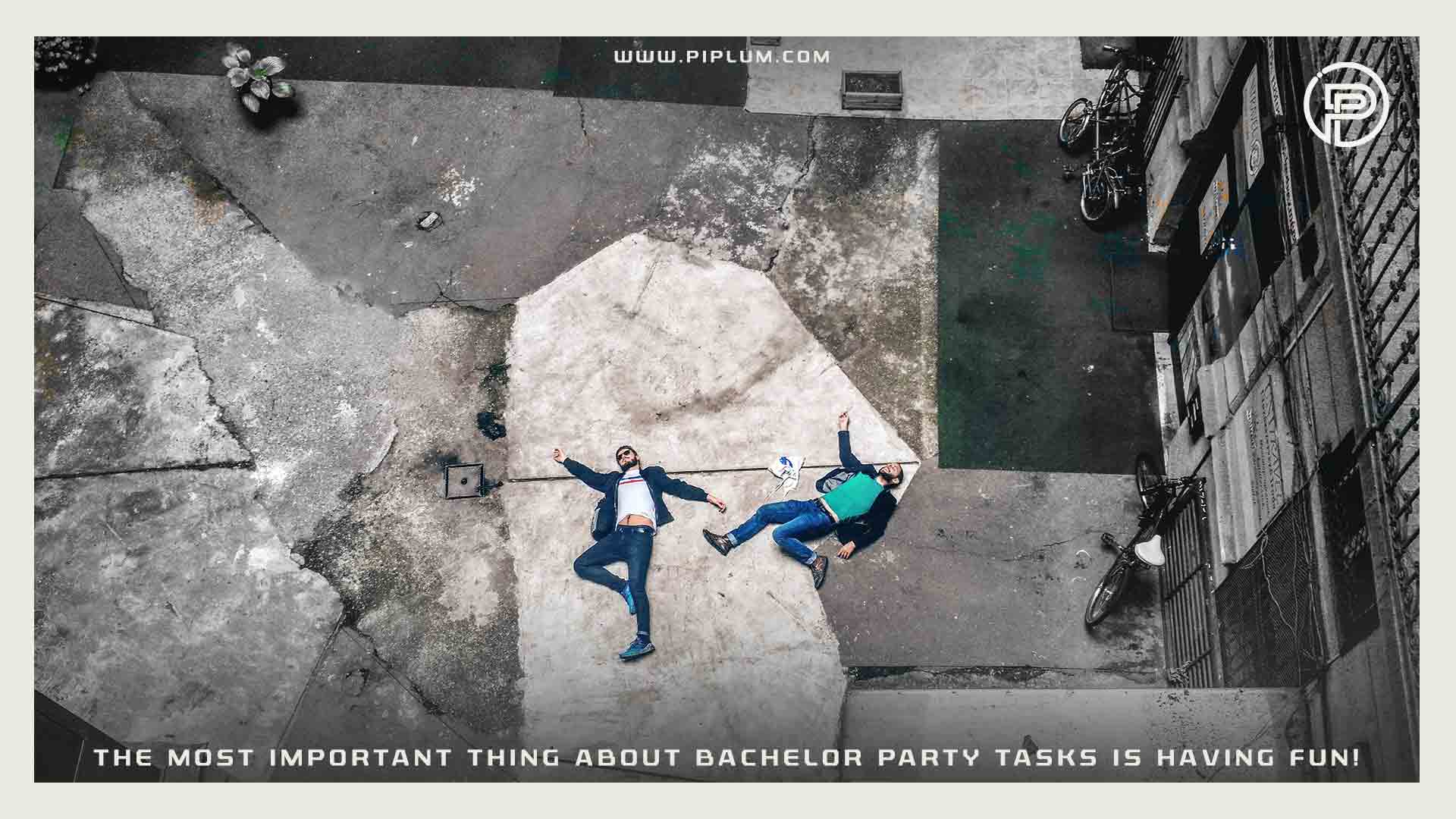 The Best Bachelor Party Tasks. Scavenger Hunt Ideas
It is possible to make a joke before such a severe step in life…
A bachelor party is when even the most severe men are inclined to go wild.
What will make a bachelor party memorable?
A bachelor or bachelorette party goes by many different names depending on where you come from: stag and hen, buck and doe, and bull.
But whatever name you call it, it should be a fun and memorable occasion as you send your best friend off into a happy married life.
Usually, men do not share much of the adventures of that day, so we use the occasion and reveal what a masculine and memorable bachelor party tasks look like:
You must collect pictures of various items in this Hens party scavenger hunt poster.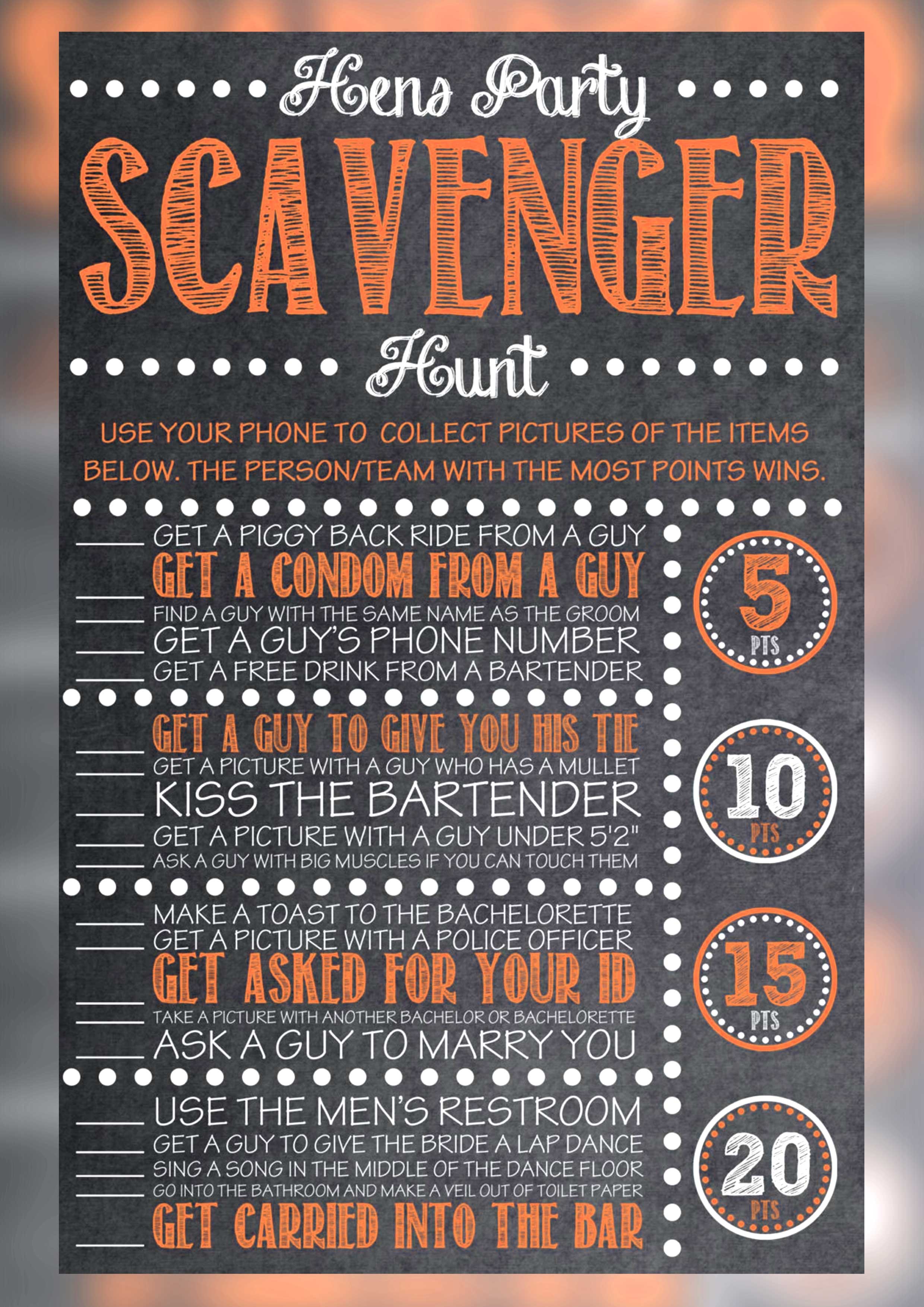 »Download Printable Scavenger Hunt Here«
If the games seem dull, consider what hobbies bring your friends together.
Bachelor Weekend Party Ideas:
A weekend camping and hiking trip in the mountains
A weekend at a luxury spa and resort
A weekend of golfing at a top-rated golf course
A weekend of fishing and boating on a lake or river
A weekend of skydiving and bungee jumping
A weekend of rock climbing and rappelling
A weekend of white-water rafting and kayaking
A weekend of hot air ballooning and gliding
A weekend of horseback riding and trail riding
A weekend of surfing and stand-up paddleboarding
A weekend of mountain biking and dirt biking
A weekend of motocross racing and stunts
A weekend of ATV and off-roading adventures
A weekend of go-kart racing and indoor karting
A weekend of paintball and laser tag
A weekend of indoor and outdoor rock climbing
A weekend of indoor and outdoor skydiving
A weekend of indoor and outdoor bungee jumping
A weekend of indoor and outdoor white-water rafting
A weekend of indoor and outdoor kayaking
A weekend of indoor and outdoor hot-air ballooning
A weekend of indoor and outdoor gliding
A weekend of indoor and outdoor rock climbing
A weekend of indoor and outdoor motocross racing
A weekend of indoor and outdoor ATV and off-roading adventures
A weekend of indoor and outdoor go-kart racing
A weekend of indoor and outdoor paintball and laser tag
A weekend of indoor and outdoor bowling and billiards
A weekend of indoor and outdoor video game competitions
A weekend of indoor and outdoor arcade games and laser tag.
A man's last night of freedom should always be memorable and that is why stag party pranks tend to be part of the mix.
Stag party pranks can be good for laughs as long as the best man keeps the safety and sanity of the groom in mind.
Remember, not all stags are created equal and not all will be "game" to try more humiliating and embarrassing pranks.
It would not be worth being sober at a bachelor part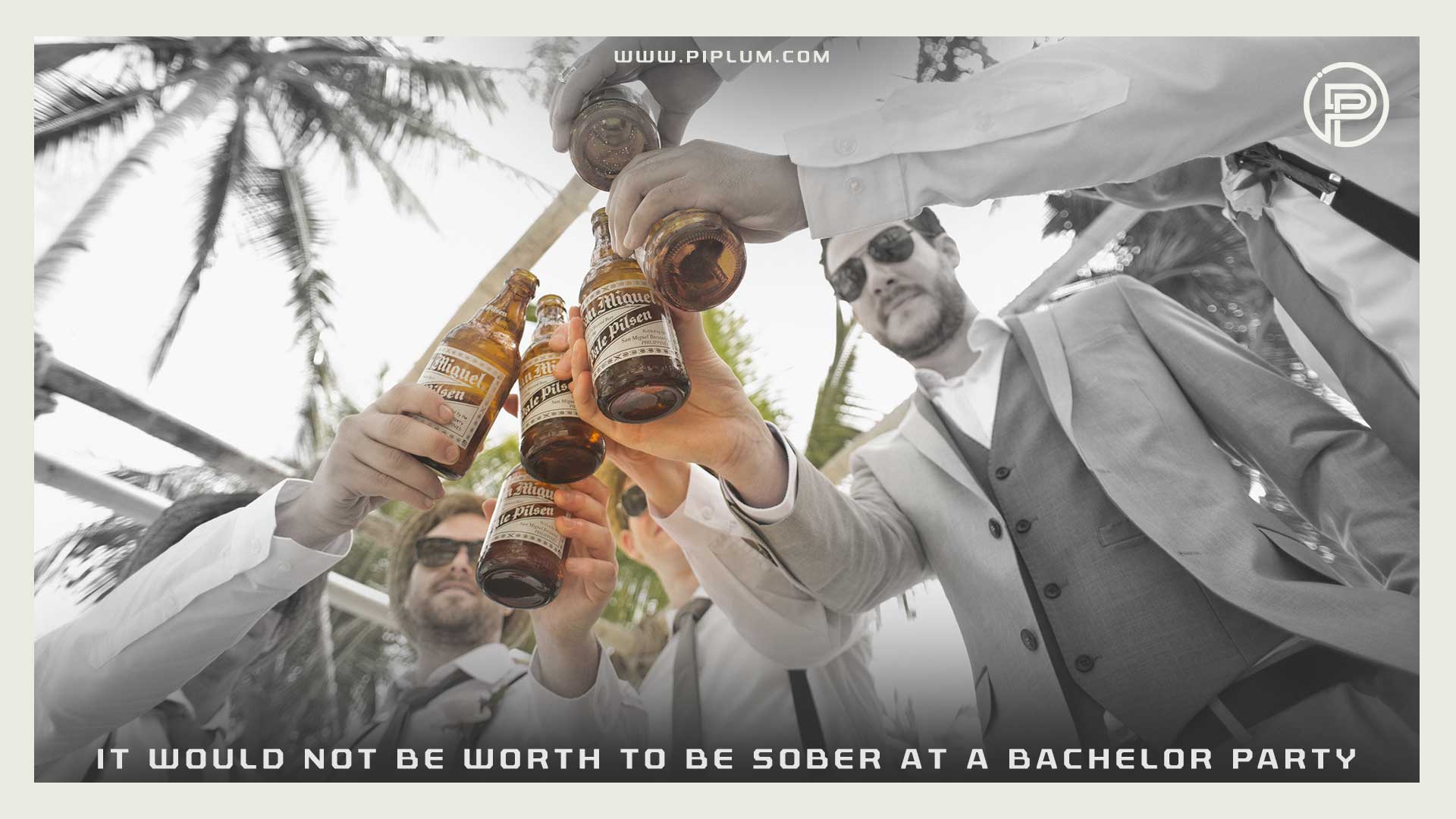 Even so, there's fun to be had with a bit of creativity even if, most of the time, it is at the expense of the celebrant.
Hens Party Scavenger Hunt
Use your phone to collect pictures.
The person with the most points wins.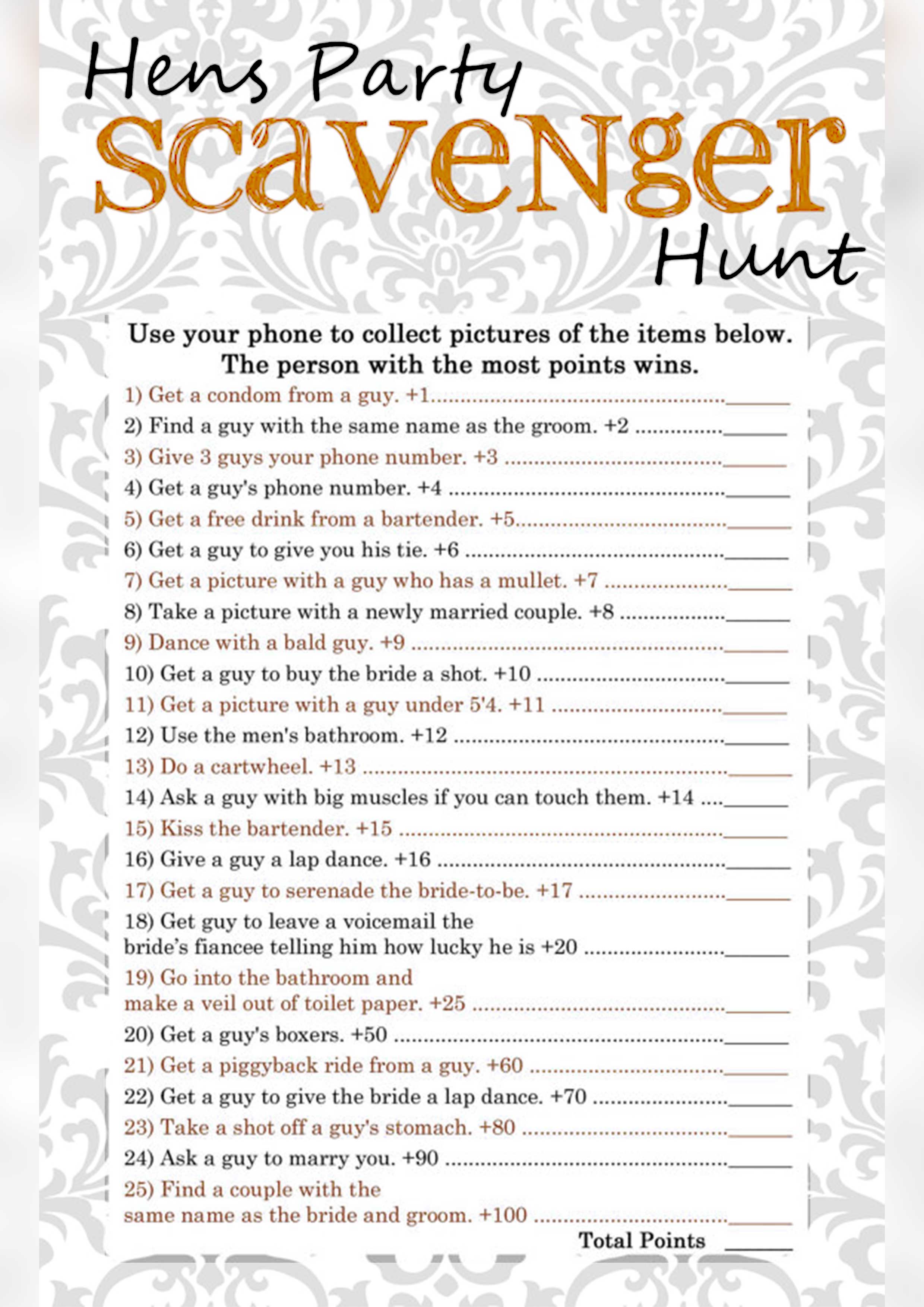 »Download Printable Scavenger Hunt Using Phone – Here«
A stag wouldn't be the same if there weren't any stag do pranks tossed again and again.
How To Make A Great Bachelor Party?
Plan ahead: Start planning your bachelor party a few months in advance to ensure you have enough time to organize all the details.
Set a budget: Decide on a budget for the party and stick to it. This will help you avoid overspending and ensure everyone has a good time without breaking the bank.
Choose the right location: Select a location that is convenient for everyone to get to and that offers the type of activities and amenities that you want for your party.
Pick a theme: Choose a theme for the party that is fun and fits the groom's personality. This could be a casino night, a beach party, or a sports-themed event.
Invite the right people: Invite all the right people, including the groom's closest friends and family members.
Plan activities: Plan activities that will keep everyone entertained and engaged throughout the party. These could include games, competitions, and other fun activities.
Hire a professional: Consider hiring a professional event planner or party planner to help you organize and execute the party.
Don't forget the food and drinks: Make sure to have plenty of food and drinks available for everyone to enjoy.
Send out invitations: Send out invitations to all the guests well in advance of the party.
Have fun: Remember, the most important thing is to have fun and make sure that the groom has a great time on his last night as a single man.
Everything from the old school tying the groom to a lamppost to shaving off his eyebrows.
Having a sense of humor will usually make a bachelor party a lot easier.
Bachelor Party Ideas For Men
Sports weekend getaway – Rent a cabin or a house in a nearby town and spend the weekend playing golf, fishing, and watching sports games together.
Casino night – Rent a casino party bus and hit up a nearby casino for a night of gambling and drinks.
Outdoor adventure – Plan a weekend camping trip or a day of white water rafting or bungee jumping.
Beer tasting tour – Visit a local brewery or plan a trip to a nearby city known for its beer scene and take a guided tour of the breweries.
Poker night – Host a poker night at the bachelor's home or at a rented event space and invite friends to play and enjoy a night of drinks and snacks.
Sports game – Plan a trip to a nearby city to attend a professional sports game together.
Spa day – Treat the bachelor and his friends to a day of relaxation at a nearby spa.
Comedy club – Head to a nearby comedy club for a night of laughter and drinks.
Paintball – Rent a paintball field and spend the day competing against each other in a friendly game.
Go-kart racing – Rent a go-kart track and spend the day racing against each other for bragging rights.
Stag Pranks Ideas. Make Your Bachelor Party Unforgettable. Poster.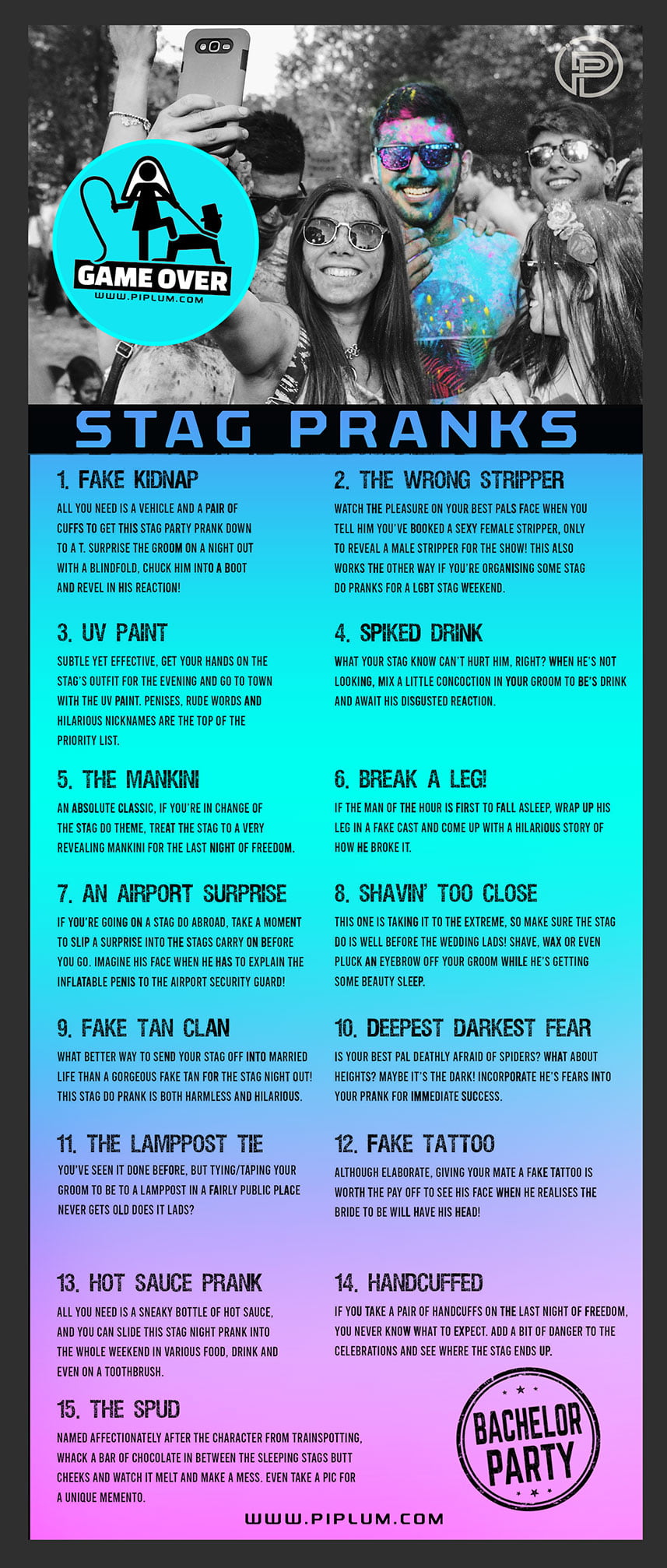 You might like: Following the Xmas Magic. How To Take Perfect Christmas Photos.
Bachelorette Party Photo Hunt
In order to prevent the bachelor party from becoming a regular party, we also suggest you dress up exceptionally, if not for the whole evening, at least for a fun photo.
One more great bachelorette Party Photo Hunt.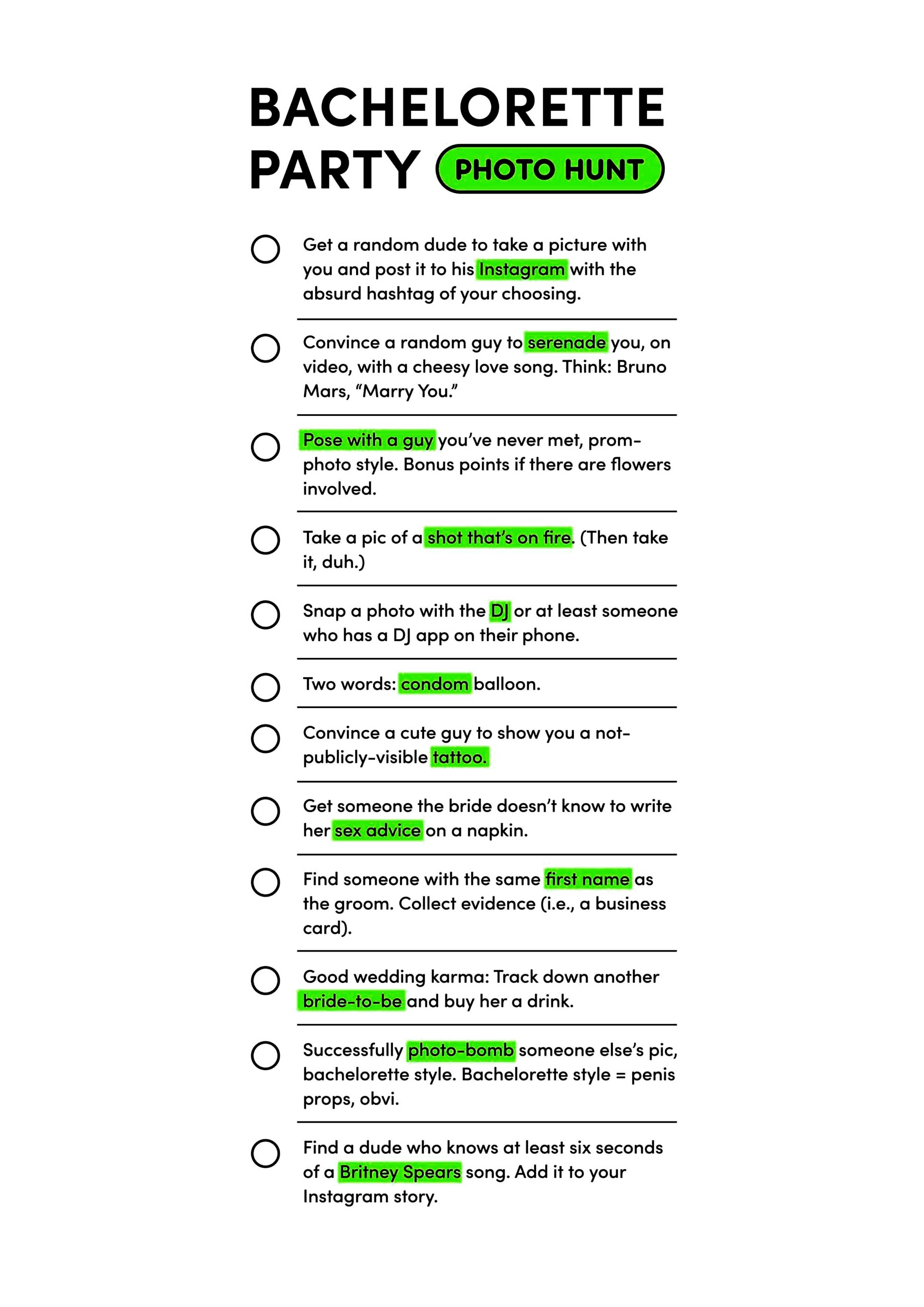 »Download Printable Scavenger Photo Hunt Here«
Best Man Checklist
If you were chosen as best man for an upcoming wedding.
Here is a list of responsibilities leading up to the big day.
If you read this list carefully, you will kill it as best man!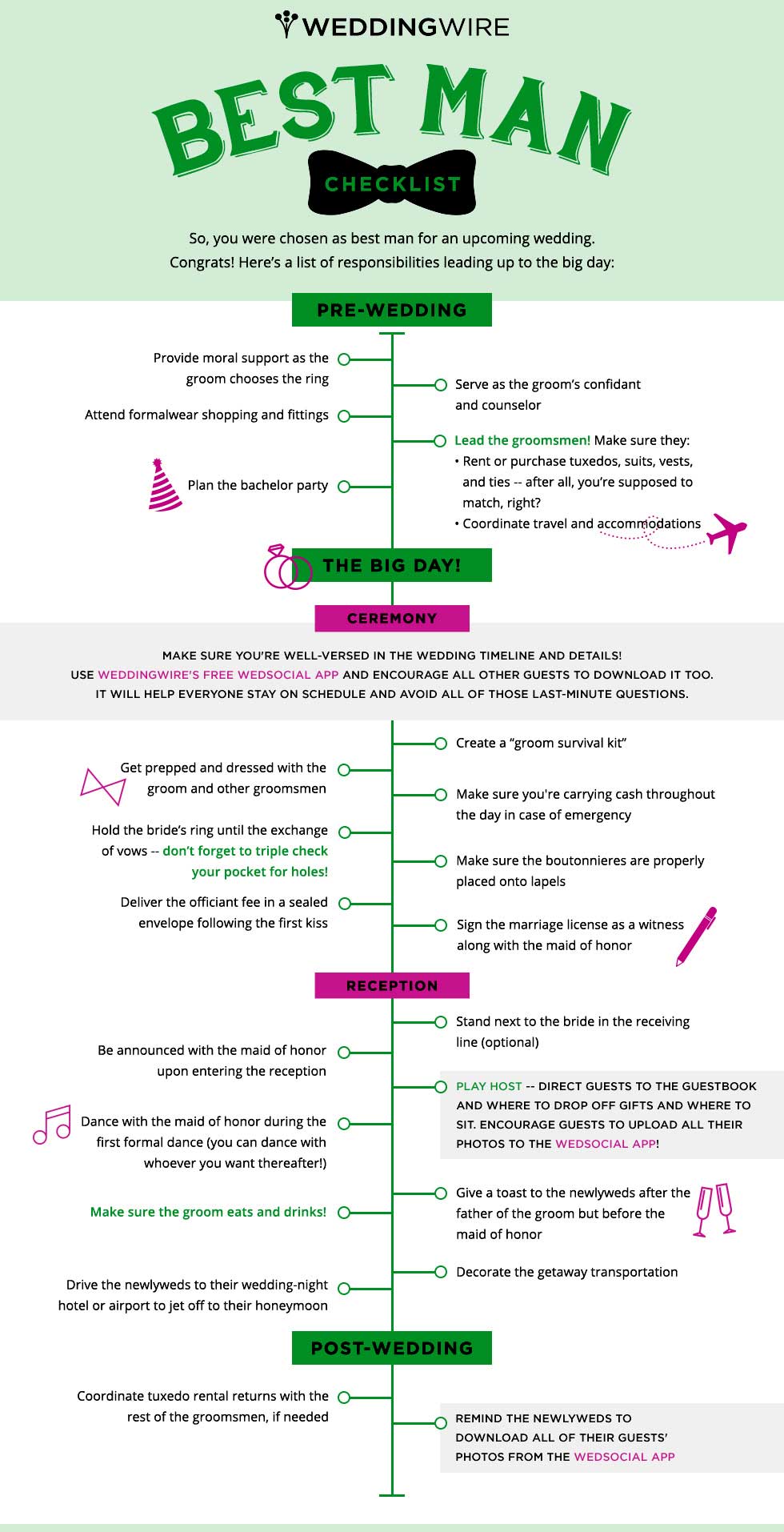 »Download Best Man Checklist HERE«
After all,
For men, the mountain never seems to be too much to try out, the speed is too high to reach, and with it, a lot of gambling and entertainment can happen.
And although we all love to celebrate, men tend to overdo it more often than women.
However, there is an opportunity, at least one night in life, when a green traffic light comes on before the man's eyes, the route is not regulated, and the passengers can be chosen by themselves.
Such a celebration, of course, is a bachelor party.
And you or your immediate friend deserved it, just because it happens once in a lifetime.
Or at least just such a thought should be followed before the fateful "Yes".
You might like: Discover New Activities With Your Best Friend. Friends Bucket List.
Bachelor Party for Women
Spa day: Treat the bride-to-be and her friends to a day of relaxation at a luxurious spa. Services can include massages, facials, and manicures.
Wine tasting: Plan a wine tasting excursion to a nearby vineyard or wine country. Enjoy delicious wines and gourmet food while bonding with the bride-to-be and her friends.
Beach getaway: Plan a weekend getaway to a beach destination for some sun, sand, and fun. Activities can include swimming, sunbathing, and beach volleyball.
Cooking class: Sign up for a cooking class where the bride-to-be and her friends can learn how to prepare delicious meals together.
Dance class: Take a dance class together and learn some new moves. This can be a fun and active way to bond with the bride-to-be and her friends.
High tea: Plan a traditional high tea party with the bride-to-be and her friends. This can include a fancy tea service, sandwiches, and desserts.
Comedy club: Plan a night out at a comedy club to enjoy some laughs and good company.
Art class: Sign up for an art class together and unleash your creativity. This can be a fun and unique way to bond with the bride-to-be and her friends.
Movie night: Plan a movie night at home or at a local theater. Choose a selection of films that the bride-to-be and her friends will enjoy.
Game night: Plan a game night at home with the bride-to-be and her friends. This can include a variety of games such as board games, card games, and video games.
You might like: Insane Bucket List. Inspirational Ideas And Goals For Unforgettable Experiences.