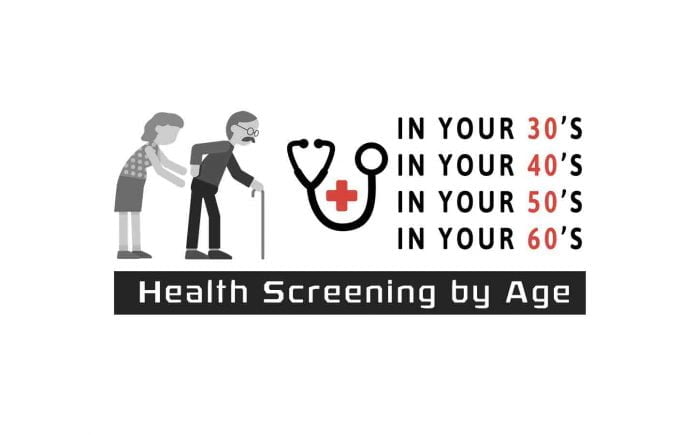 Doesn't matter if you are in your 20's, 30's, 40's, 50's or 60's. Long working hours, constant stress, insufficient relaxation, imbalanced nutrition, and insufficient attention to one's health are the reasons determining the rise of many health disorders and diseases. So health screening by age is essential to maintain an active lifestyle when you're getting older.
Regular health check-ups and diagnostic measures help to identify the illness before it progressed. If you are taking care of your and your family member's health, you have more opportunities to start treatment earlier and to expect a better outcome.
Your age, your health status, history of family illness, your lifestyle, what and how you eat, you are doing sports, or you have bad habits are the main factors, which states what type of health check-up you have to perform and what diagnostic test should be performed.
When it comes to health, prevention is better than a cure.
Screening programs are designed for people without any signs or symptoms. So even if you feel healthy, it's wise to keep up to date with your appointments.
That said, it's essential that you also keep an eye on your body and visit your GP if you see any changes (like a lump, new mole, sudden weight loss, or change in bowel habits).
The below recommendations refer to checks and screening for the general population. If you have specific risk factors or a family history of a particular condition, be sure to seek individual advice from your GP.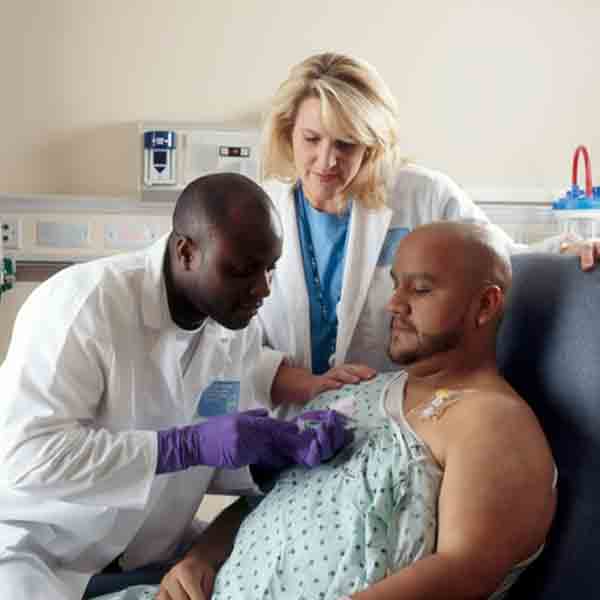 You might like: Embrace All The Changes. How To Look Beautiful At 60+
Basic Health Tests For All Ages
Melanoma/skin cancer
Who:

 Everyone.

When:

 Regularly.

What:

 Skin checks. It's essential to get to know your skin and what's normal for you to notice any new spots or changes to existing freckles or moles. Also, help your loved ones check areas that are hard to see, and ask them to do the same for you. Talk to your doctor about your level of risk and advice on early detection.
You might like: Save Your Skin From this Dangerous Disease. How to Detect Skin Cancer.
Dental health
Who:

 

Everyone

When:

 Regularly – your dentist can advise.

What:

 

Dental check-up. Regular check-ups are important as poor dental health can affect not only your teeth and gums it can lead to problems like malnutrition and infections in other parts of your body.
Health Screening by Age 20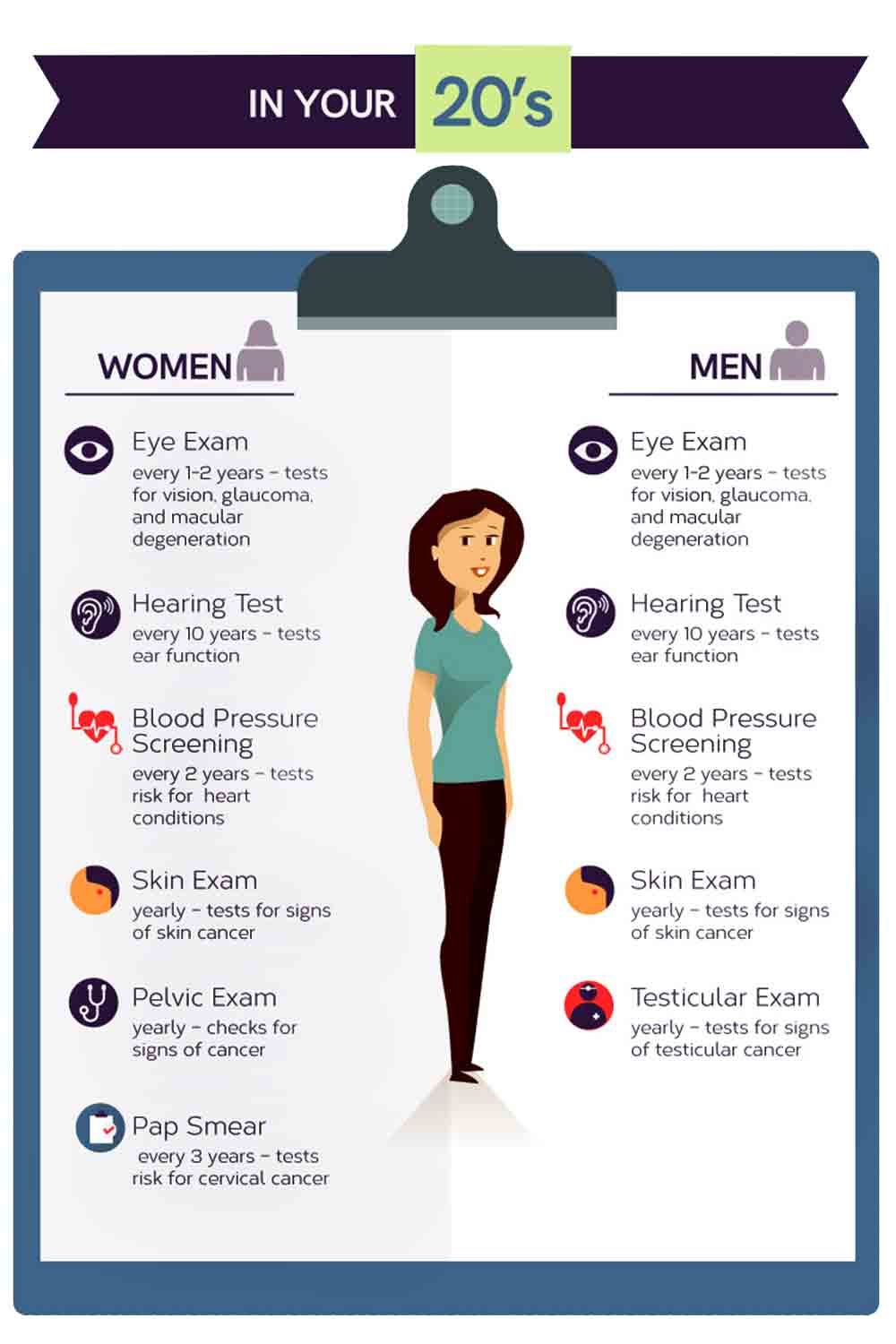 Who:

 Women aged 18 – 69 are invited to screen through the National Cervical Screening Program. You should start having Pap tests between 18-20, or 1-2 years after becoming sexually active. Once you've had your first test, you'll be added to the screening registry and be sent reminder letters for future tests.

When:

 Every 2 years.

What:

 Pap test*. It's a quick and simple test used to check for changes to the cervix cells that may lead to cervical cancer. A doctor or nurse takes a sample of cells from the surface of the cervix and puts them on a glass slide. The slide is sent to a laboratory for analysis, and the results are usually available within a week.
Who:

 

Testicular cancer is most common in men aged 18 – 39.

When:

 Regularly.

What:

 Testicle self-examination – the American Cancer Society explains how to do this. Check your tests regularly for anything unusual, and see your doctor if you notice any changes. A hard lump is the most common sign of testicular cancer.
You might like: Gestational Diabetes Symptoms And Treatment. Safe Pregnancy Poster.
Health Screening by Age 30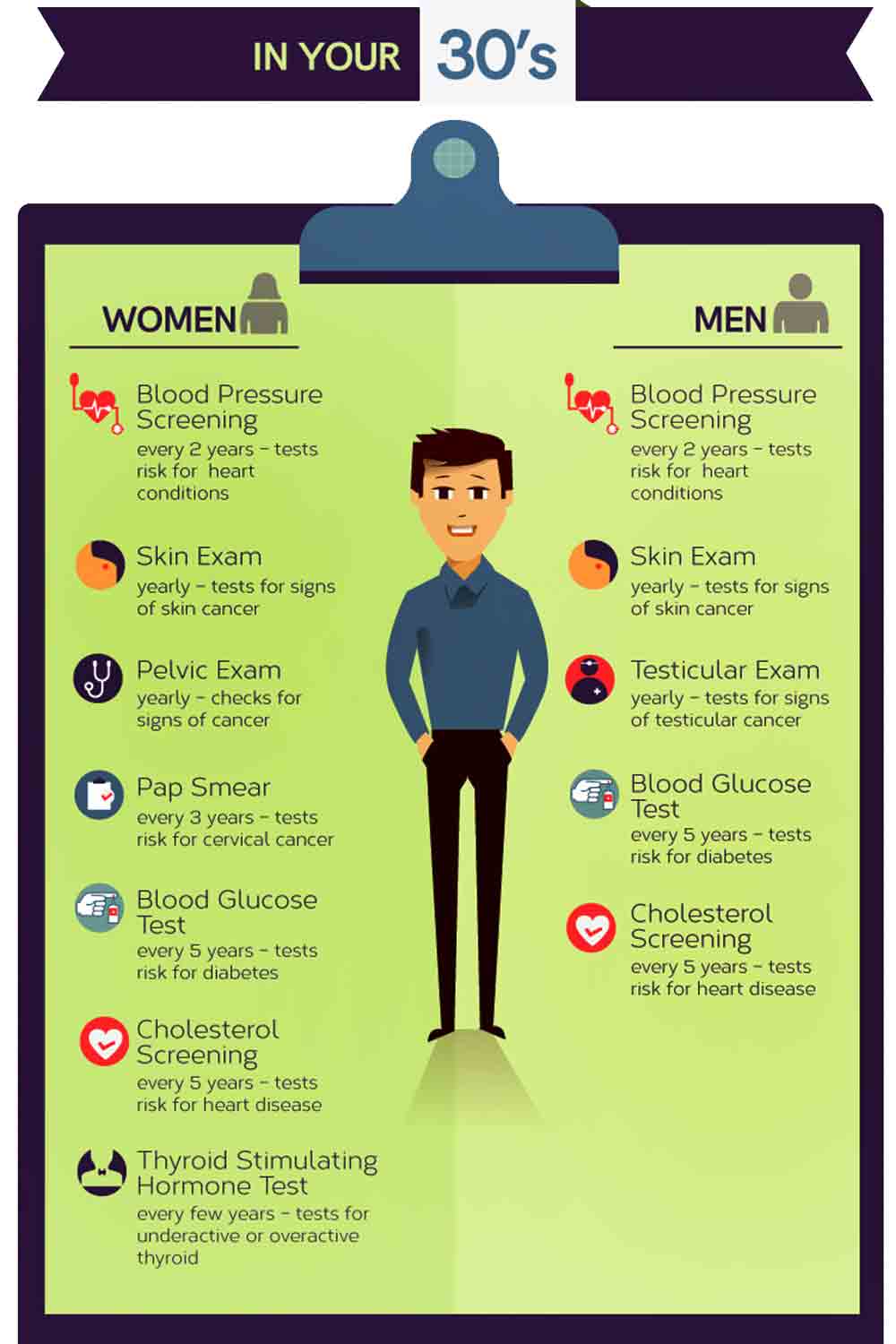 Annual health screenings at this age are often missed. Busy work and family lives keep healthy adults from seeing their primary care provider. A well-person screening is typically covered by insurance and recommended yearly.
This annual screening would typically include:
Weight and Height

: Annually

Blood Pressure

: Annually

Cholesterol Check

: Annually if there are known risk factors, otherwise every five years. 

Skin Screening

: For lesions or moles that look suspicious.

Historical Illness Screenings

: For known family medical issues such as heart conditions, diabetes, and cancer. 

Diabetes Screening

: Annually if there are known risk factors, otherwise bi-annually, if BMI is greater than 25 or other lifestyle factors are present. 

Immunizations 

Depression Screening

Blood Work

 is done annually and may include: 

HDL and LDL cholesterol

Complete Blood Count

Basic or Complete Metabolic Panel 

Thyroid Panel

Liver Enzyme Markers

Sexually Transmitted Disease Tests 

Plasma Glucose
Extra Screenings for Women 
Cervical Cancer Screening

: Pap smears every 3 years.

The HPV vaccine

: If not received as an adolescent 

Breast Exam

: A self-exam should be performed by you at home monthly and by the clinical provider yearly.

Sexually Transmitted Infections

: Depending on lifestyle or patient request. May include HIV, HPV, Chlamydia, Gonorrhea, or other infections. 
Extra Screenings for Men 
Sexually Transmitted Infections:

 Depending on lifestyle or patient request.

Testicular Exam: Home self-exams can be done as well.  
Related content: Discover Magical Properties of Flaxseed Oil. Healthy Nutrition For Skin, Hair, And Body.
Health Screening by Age 40
Staying healthy is especially important once you reach your 40s. Doctors recommend several health checks to help prevent problems that can become more common in your 40s.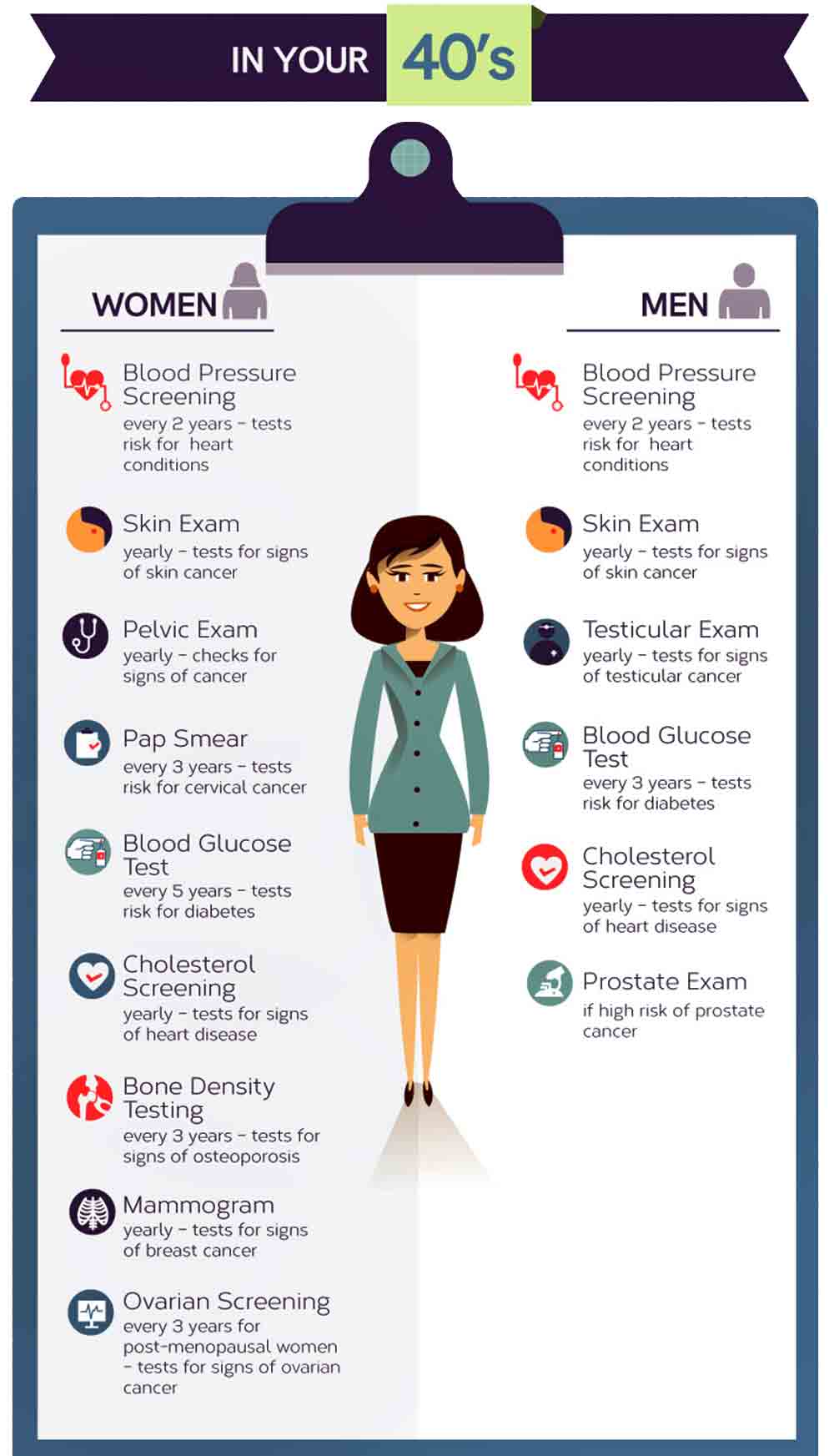 Any screening tests you should have and how often will depend on your health and your family history. Talk to your doctor about exactly what you need, but most healthy people in their 40s should get health checks at regular intervals.
Every 2 years
have a heart disease risk assessment

have a blood pressure check

have an eye test
Every 3 years
have a blood glucose test
Every 5 years
have your cholesterol and lipids tested

have a cervical screening test (women)
At regular intervals
have skin cancer checks

have dental check-ups
The screenings completed for adults ages 40 will continue annually based on your medical history. Work with your provider to determine if these tests can be done bi-annually, every 3 years, or a different time frame based on any current medical issues. 
Columbia NPG's board-certified nurse practitioners offer the latest preventative screenings and can help you determine which ones are best for you. Additional health screenings, tests, and vaccines that could be done in this age bracket include:  
Shingles Vaccine

: Two doses separated by 2 to 6 months given at age 40 and up. 

Flu Shot

: Annually

Colorectal Screening

: Age 40 and up unless other risk factors are present.

Colonoscopy

: May be needed based on medical history.

Osteoporosis Screening

: Age 40 and up with risk factors.

Lung Cancer Screening

: Annually if a past smoker. According to the American Lung Association, adults, age 50 years and up, can have this screening covered by their insurance. 

Depression Screening:

 Mental health assessment 
Extra Screenings for Women 
Annual Blood Work:

 Continue annual exams as established in earlier years. 

Mammogram

: Annually or Bi-annually based on your risk factors.

Pelvic Exam

: Physical exam and Pap smear every 3 years or more frequently based on history and risk factors.   
You might like: Food For a Healthy Gut. Discover Purple and Blue Fruits and Vegetables.
Health Screening by Age 50
Staying on top of annual check-ups improves the chances of remaining in optimal health. And you can do your part by making sure to schedule and receive these recommended medical tests by age 50.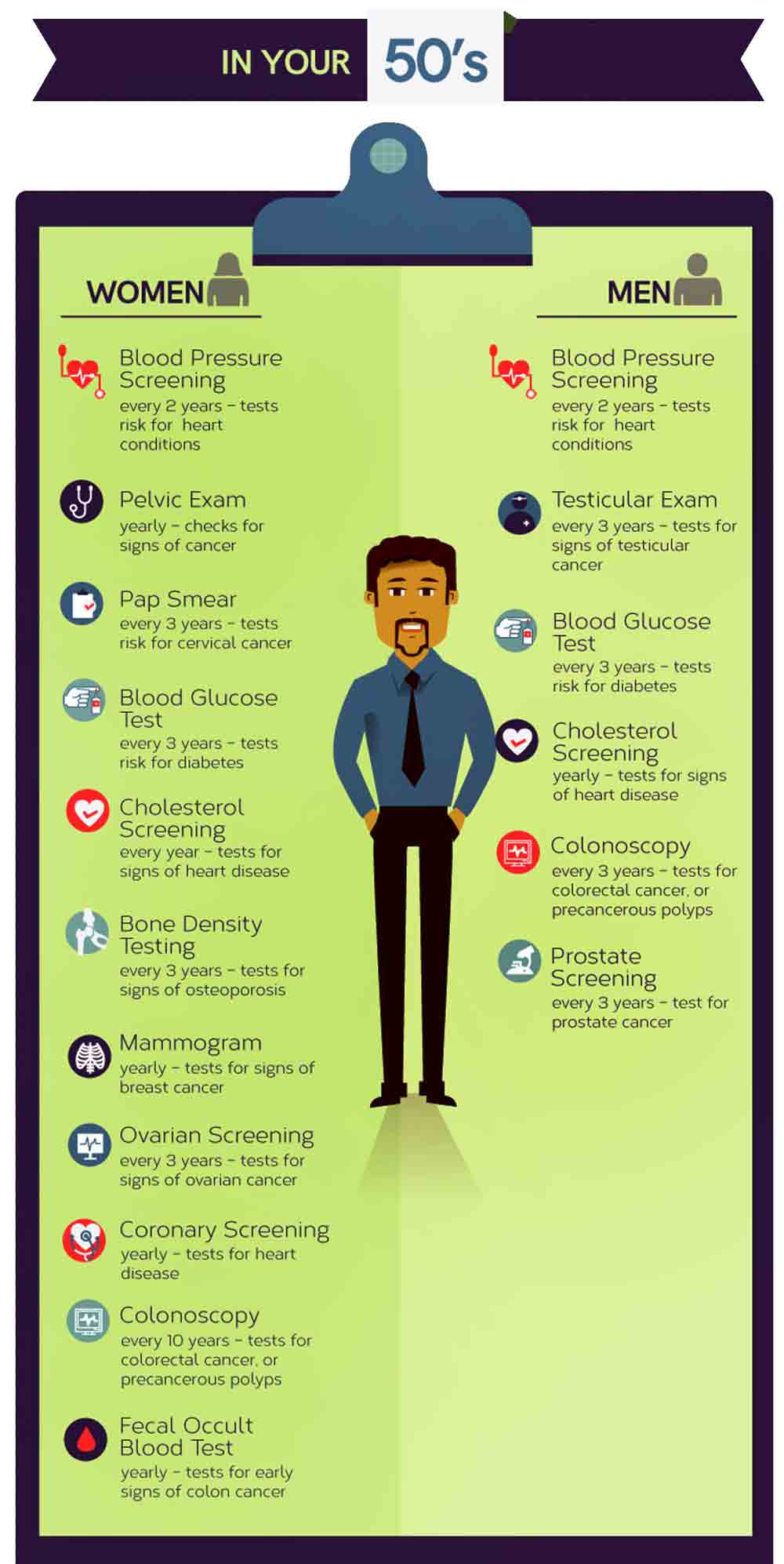 Once you turn 50, you will encounter additional tests and health screenings, as there are more concerns as you age. 
Common health concerns for women over 50: 
Menopause 

Cancer risk 

Memory loss/brain fog 

Joint issues 

Continence 

Vitality 

Vascular health 

Vision 
Common health concerns for men over 50: 
Loss of libido 

Obesity 

Joint issues 

Brain fog/memory loss 

Loss of muscle tone and function 

Vitality 

Cancer risk 

Stroke or cardiac risk factors 

Vision 
Health Screening by Age 60
Many optional tests in the other categories will become recommended by age 65 and more readily covered by insurance companies. These tests are essential to evaluating overall health and continuing to maintain health at this age.

 All the previous yearly tests will continue with these additions:
Colorectal Cancer Screening

: Baseline test if not done previously and continued tests based on baseline results.

Height and Weight

: Although this is a screening performed every year, age height becomes more critical as shrinking height could be a sign of osteoporosis. 

Fall Prevention Screening: Baseline and then as needed. 

Depression Screening:

 Mental health assessment 

According to the Center for Disease Control and Prevention, high Dose Flu Vaccine

: Fluzone High-Dose is only available to adults 65 years old and older.
You might like: How Celebrities Treat Psoriasis. Kim Kardashian, Cara Delevingne, And Other Famous People.
Extra Screenings for Women 
Cervical Cancer Screening

: Most women can stop having Pap smears if they have no history of cervical cancer. If a hysterectomy has taken place, then no pelvic exam may be necessary. 

Osteoporosis Screening

: Women are at higher risk for osteoporosis and will be screened more regularly at this age. (Baseline at 65 years old, if not already established, and additional screening based on the results) 
Extra Screenings for Men
Prostate Screenings

: Continue annually. 

Osteoporosis Screening

: Every 5 years after the baseline is established. 
You might like: What Are The Symptoms Of Rosacea? What Are The Triggers And Risk Factors?
Schedule a Comprehensive Health Screening With a Practitioner You Can Trust
Health screenings are based on the information you provide, so be sure to discuss your complete health history with your practitioner at every yearly visit.
Write down questions you may have for your provider ahead of time and take notes during your appointment. Bring a list of your medications and supplements with you and share that information with your provider as well. 
Your annual health screening is an opportunity to take control of your personal health and work with your provider to make shared decisions. Services available to you may differ based on your history, current symptoms, and health insurance provider. 
Some variation exists regarding the timing and frequency of screening guidelines from the recommending entities.
You might like: New Age Dilemma. Which Are The Best Diets In The World?